Link for COPD + Vitamin D3 cure article>>  http://jefftbowles.com/copd-is-incurable-dont-tell-that-to-high-dose-vitamin-d3/
Link for Allergies + Vitamin D3 cure article>>> http://jefftbowles.com/case-study-6-long-term-high-dose-vitamin-d3-therapy-can-cure-life-long-allergies-13/
The cure for asthma-
Like every other disease related to Vitamin D3 deficiency like MS, autism, obesity, etc. the rates of asthma in the population have been increasing dramatically ever since the world's population started  using sunscreen and staying out of the sun.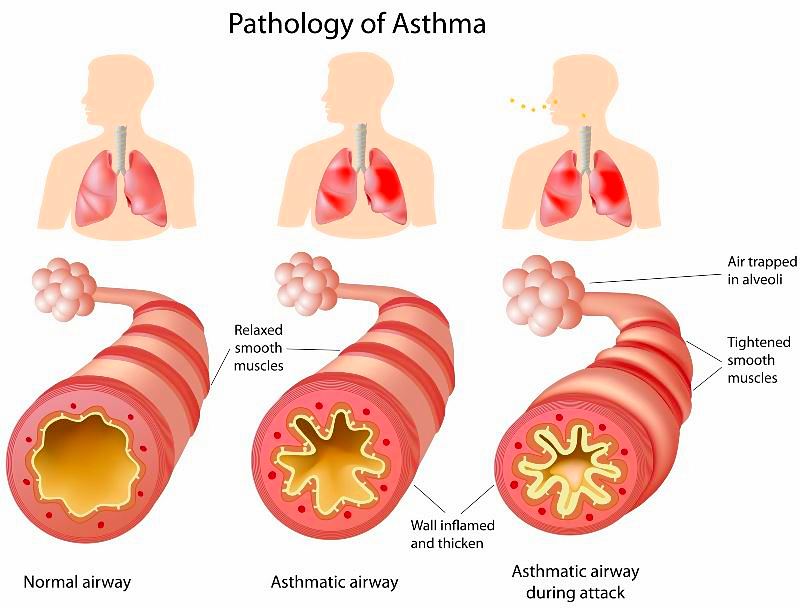 The number of people with asthma continues to grow. One in 12 people (about 25 million, or 8% of the US population) have asthma.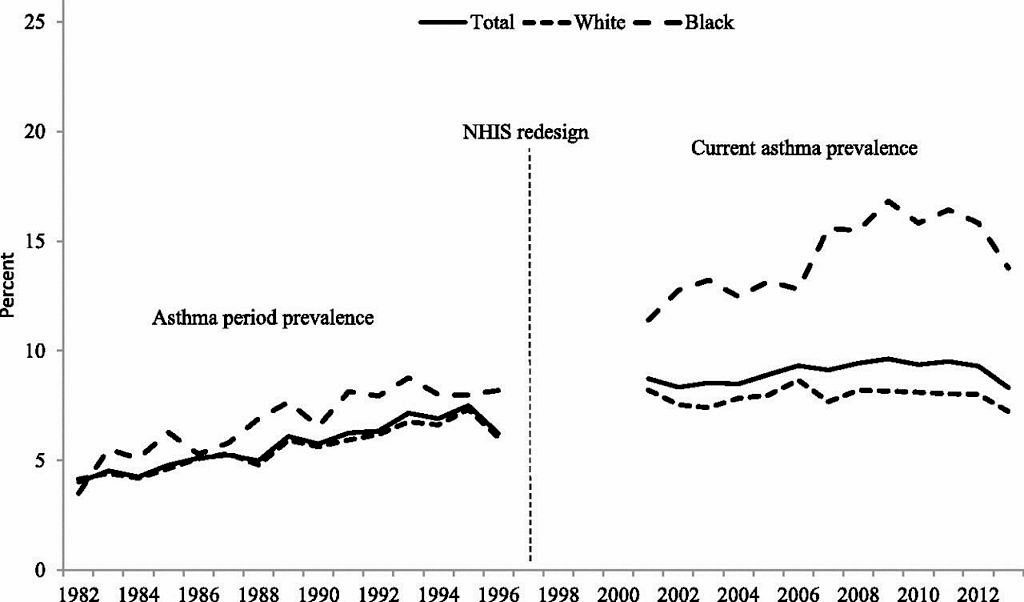 "Everyone knows asthma is incurable!" That is what Cynthia, the co-moderator of the yahoo discussion group "Asthma" with 800+ members told me in 2012 when I tried to post a message discussing how a woman who took high doses of Vitamin D3 for several months (up to 30,000 IU per day) apparently cured her asthma. She confidently told me that anything over 4,000 IU of D3 per day was dangerous and I was instantly banned from the group! Right now I want to present the most convincing case I have heard about yet in the last 6 years that high-dose Vitamin D3 can indeed CURE asthma. Let Anne from France tell you in her own words:
Good morning from Brittany in France, Jeff,
And a BIG thank you to you for testing out vitamin/hormone D3 and K2 on yourself, sharing your experience and reporting on the results.
After reading your book, I bought Vitamin D3 (10000 IU) + K2 complex from a UK website which imports most of its products (vitamins & minerals) from the USA : www.bigvits.co.uk
Today, I have just had my 69th birthday (1948) and had suffered from asthma from birth, sleeping all my childhood and teenage years with a bolster and 2 pillows to prop me up and making me sleep virtually sitting-up.
My parents never really took this asthma very seriously, as our local doctor kept saying it was just infantile asthma and that it would go away.
It never did!
When I was 18, I was in the UK and suffered a major asthma attack in a house I had just moved in to be an au-pair girl to 3 lovely children. I came to the UK to learn English.
The house had fitted carpets throughout the ground floor and 2 upper floors, and the family did not have a vacuum cleaner!
One of my first cousins mother-in-law was a friend of the family and asked me where my medicine against asthma was. I told her I did not have any. She repeated it 3 times as she could not believe that I had never had relief from asthma before.
Her husband was a retired doctor, so she rushed to ask him to write a prescription for me and, for the very first time in my short life, I experienced some relief. I did not even know medicine existed to relieve asthma as my parents never gave me any. We did not question parents' decisions at that time… I would today!
So, since I was 18 years old, over 50 years ago, I have been taking Theophiline, Bricanyl, Prednisolone (cortisone) at times, Ventolin, etc…
At school I could not run 100 metres, though I loved sports and looked quite fit.
When you have asthma, allergies to household dust, cats' hair, dogs' hair, strong smells (freshly cut grass, strong perfume, etc) are your daily companions.
When you have an attack, you cannot walk, laugh, cry or even talk, as all these normal functions require oxygen, which becomes a rarity.
On several occasions, I thought I was dying, was rushed to hospital where they take asthma sufferers as a priority as many do die of an attack, but finally, I survived extreme situations, and am here to tell the tale.
Today, Jeff, I am writing to report that after taking Vitamin D3 + K2 for over a year now, I am totally free from asthma and no longer taking any of the medicines listed above.
So, Jeff, a HUGE thank you for stepping outside the box for all of us who had a real need of a lateral thinker! Please feel free to use this testimony, if you want to.
Kind regards
Anne
So Anne's case certainly suggests that D3 can cure asthma at least in her case AND MAYBE IN EVERYONE'S CASE!
Let's backtrack a bit and think about how and why D3 might be able to cure asthma.
About 6 years ago I published what would become the world's best-selling book about Vitamin D3. It described the great relief I got from various chronic health condition by taking high-dose Vitamin D3 over a one-year period.  Not too long after publishing the book, I started getting feedback from readers who tried their own high-dose Vitamin D3 experiments. One thing that started popping up now and then were people claiming that they had substantially improved or even cured their life-long asthma!
I then started doing a little research on PubMed and discovered what I think is the smoking gun study concerning Vitamin D3 and asthma. It turns out that Vitamin D3 is also known as the bone and joint remodeling hormone, and from everything I have seen over the years since writing the book on D3, I am certain that Vitamin D3  is basically the all-tissue remodeling hormone. And in the case of asthma, the following study suggests that asthmatic lungs are simply less remodeled than normal lungs. This results in denser lung tissue and smaller bronchiole (airways). With fewer and smaller airways, it is hard to catch one's breath and just the slightest insult results in inflammation, which will be much magnified in asthmatic lungs with smaller airways.
After I heard of the first case of high-dose D3 seeming to cure asthma I did a little research on PubMed and discovered what I thought was the smoking gun study that proved the remodeling hypothesis. Here it is. The lower the child's Vitamin D3 status is, the denser his or her lung tissue is and the more severe the asthma! JACKPOT!>>
Am J Respir Crit Care Med. 2011 Dec 15;184(12):1342-9. Epub 2011 Sep 8.
Relationship between serum lung remodeling hormone, disease severity, and airway remodeling in children with asthma.
Department of Paediatric Respiratory Medicine, Royal Brompton Hospital, London, UK. [email protected]
Abstract
RATIONALE:
Little is known about Vitamin D3 status and its effect on asthma pathophysiology in children with severe, therapy-resistant asthma(STRA).
OBJECTIVES:
Relationships between serum Vitamin D3, lung function, and pathology were investigated in pediatric STRA.
METHODS:
Vitamin D3 was measured in 86 children (mean age, 11.7 yr): 36 with STRA, 26 with moderate asthma(MA), and 24 without asthma (control subjects). Relationships between D3, the asthma control test (ACT), spirometry, corticosteroid use, and exacerbations were assessed. Twenty-two of 36 children with STRA underwent fiberoptic bronchoscopy, bronchoalveolar lavage, and endobronchial biopsy with assessment of airway inflammation and remodeling.
MEASUREMENTS AND MAIN RESULTS:
Vit D3 levels (median [IQR]) were significantly lower in STRA (28 [22-38] nmol/L) than in MA (42.5 [29-63] nmol/L) and control subjects (56.5 [45-67] nmol/L) (P < 0.001). There was a positive relationship between D3  levels and percent predicted FEV(1) (r = 0.4, P < 0.001) and FVC (r = 0.3, P = 0.002) in all subjects. D3 levels were positively associated with ACT (r = 0.6, P < 0.001), and inversely associated with exacerbations (r = -0.6, P < 0.001) and inhaled steroid dose (r = -0.39, P = 0.001) in MA and STRA. Airway smooth muscle (ASM) mass, but not epithelial shedding or reticular basement membrane thickness, was inversely related to 25(OH)D(3) levels (r = -0.6, P = 0.008). There was a positive correlation between ASM mass and bronchodilator reversibility (r = 0.6, P = 0.009) and an inverse correlation between ASM mass and ACT (r = -0.7, P < 0.001).
CONCLUSIONS:
Lower Vitamin D3 levels in children with STRA were associated with increased ASM mass and worse asthma control and lung function. The link between Vitamin D3, airway structure, and function suggests Vitamin D3 supplementation may be useful in pediatric STRA.
What a great study!
Since I first published my book on high-dose Vitamin D3 therapy in 2012, I have received over 1,000  responses form various readers about how high doses Vitamin D3 affected their health issues, many of which can be accessed by using the High-Dose Vitamin D3 Case study search engine available at this address>>   https://taked3.com/can-high-dose-vitamin-d3-cure-your-disease/
If you search the term asthma, in addition to Anne's story, you will find the following case studies :
This is the first real treatment for asthma that actually works — try it!
By Laura Brody on April 9, 2016
I still have asthma, but it is a lot better. I have been increasing my dosage of D3 for the past 2 months. My nose ran like crazy (used a whole box of tissue in 2 days), then I was super tired. Then I coughed up sticky chunks of phlegm for a week. The skin rashes started to recede and heal. My leaky gut must be healing as well because I can eat wheat and milk again without issue. My back has been giving me trouble for over 40 years, and I injured my shoulder 2 years ago. Both hurt like crazy for 2 days, and then felt great, just like the author described in the book. Power through the pain days and you will love the final results!
At the current rate of healing, it may be 6 months to a year before I can say that I no longer have asthma (Remember that is a cure, not a treatment that just suppresses symptoms). Since asthma almost killed me twice, I am working hard to kick asthma to the curb.
5.0 out of 5 stars I am expecting good results in another month cause I am able to …
By Imran on November 4, 2015
This book has helped me more than any health book I ever read.
Four months ago, when I read this book, I started taking 50k IU of Vitamin D with Vitamin K. Also used transdermal magnesium.
My blood level of vitamin D was 10, before I started taking heavy dose of vitamin D. My doctor suggested to take 5000 IU for a day and then continue with 2000 IU daily until the next test. I have been suffering from a persistent, nasty sinus infection for 10 years which would not heal. This infection was a result of sinus surgery to remove polyps from sinus area. Been treated with antibiotics many times. I had tried almost everything out there including hydrogen peroxide and colloidal silver. Only 26 days of Vitamin D in 50k IU and I am already seeing improvements. I don't get as much dried blood from my nose. This sinus infection is not 100% cured yet. I am expecting good results in another month cause I am able to walk now. To me, it's a major achievement to walk. Something I have not been able to do for almost two years.
My second major issue has been severe Chronic Asthma and COPD for the last 28 years. I was not able to walk and could not use the stairs. Constant use of Prednisone over the years destroyed my health. Repeated antibiotics have wiped out my gut flora. I am still using Prednisone and my regular inhalers (albuterol and Advair 500/50), but for the first time in two years, I am able to walk without much shortness of breath. I don't have acute wheezing as I always used to have. The only medication I don't have to use any more after a month of D3 is nebulizer treatment. I don't have to use Budesonide nebulizer and levalbuterol inhalations any more. This is a major improvement in my condition. My lung capacity has improved significantly. I was at 45% lung capacity at one point and was hardly able to walk. Now I am able to speed walk and lift weights.
Really appreciate Jeff T Bowles for sharing his experience with people.
5.0 out of 5 stars This book is eye-opening
By Gigi on May 21, 2014
Format: Kindle Edition|Verified Purchase
I read this book a few months ago and got my Vitamin D levels up over 100 and my blood pressure, cholesterol, skin, hair, allergies, asthma, and everything else is so much better. I just added a liquid magnesium and a knee injury from 2013 is remodeling and healing. I live in the Chicago area as well. Everything in this book DOES make sense. It really makes me mad that doctors want you to be sick. I really needed this book so that I wouldn't feel scared to dose Vitamin D3 at 50,0000 IU.
By Randy Cousins on September 17, 2014
Format: Kindle Edition|Verified Purchase
I am grateful to Jeff Bowles for the experimentation that he has done on his own body and the extensive research on vitamin D3 that he has compiled; not to mention his very compelling theory about Human Hibernation Syndrome. It is information like this that has enabled me to make large strides in overcoming a very severe asthmatic lung condition. If you are looking for miracles, this book may facilitate their happening. Additionally, Jeff has been responsive to questions by email that have arisen for me.
By Peter Neill on 21 February 2017
I'm really glad I decided to download this book. My son that has had really bad asthma since birth, along with really bad eczema has miraculously been cured by taking Vitamin D3. We have been in and out of hospital, seen endless doctors for years telling us to up the asthma medication and steroid creams for his skin, none of which improved anything. The doctors are absolutely useless and myself and my wife now believe that if you get sick you do Your Own research. We started him on D3, his skin is completely clear of eczema and his asthma is gone. I can't believe that the so-called medical professionals would not know or even mention taking something as simple as Vitamin D3. Anyway thanks for the great information in this book, easily the best thing I've read in years and I would recommend everyone to give it a read..
excellent- Thank you- Anyone looking for a cure should read this book
ByEnglish ladyon 26 August 2014
Format: Kindle Edition|Verified Purchase
Whole lot of excellent advice – definitely worth reading. Hard to put down. Well-researched and easy to read – love your writing style – I must be on the same wavelength! I've been interested in D3 for a while, but have not yet been tested. I've been taking 2 clo capsules every day for over 1 year and not had a single cold, and my asthma and allergic rhinitis have vanished as have the weird scratchy feeling in my throat when I ate pizza or crunchy bread. This has given me the motivation to get my D level tested and given me the courage to try higher doses. I'd like to lose some weight, see if I can reduce my ca125 score from 90 to 30 or 0 and see if I can remedy my extremely heavy periods. I love the authors attitude – you have to push the boundaries. I am very impressed with your hibernation theory – it rings true. And the advice to take K2 with D3 in ratio reminds me of the Nobel prize winner – Dr. Budwig's cure for cancer (she used flax oil and sauerkraut / quark) – she was the world expert on fats and used them to bring cancer patients back from the brink. She would even massage the oils into skin for fast absorption. I have also read of some South African ladies many years ago who were cured of heavy menstrual bleeding by taking large quantities of clo but have been building up courage to try.
My D3 illness was notable at 5 when I developed allergic rhinitis. In my 20's I had a weird rash whenever I went out in the sun.Then at 30 I'd become a workaholic and suddenly developed chronic asthma (they mistook it for tab at first – and within a year I'd had a melanoma removed, luckily I was pregnant so no treatment just surgery). This troubled me for years as I was in the office 8 til 8 so no sunbathing. I also had 3 or 4 work colleagues with the same thing! Last year I heard about a correlation with Vitamin D deficiency and felt there must be something in it. I can sunbathe now without protection for about 30 min. I used to get very frequent cricked necks at work and bad back pain from an old coccyx injury but I don't have that now thankfully and that's just after taking 2 capsules. I'm hoping for better results with more so I'll get tested, order some vitamins, and let you know. Thank you for writing this book and sharing your findings.
5.0 out of 5 stars Amaizing book, a real gift!
By zsuzsanna szalay on 20 September 2014
Format: Kindle Edition|Verified Purchase
This book is a special gift! It is amazing and everybody has to read it full with essential and very clear and important information.
The way the author is writing it is funny, light but very wise, special thanks for this from the readers!
For the motivation of this book we have started to give 1500 IU D3 for our autistic son (instead of 500 IU – what he got already for years). After 2 weeks of giving him the triple dosage his stubborn asthma is GONE!!!
Me and my husband also started the high dosage (me 20,000 IU, my husband 25,000 IU) per day.
We are so happy finding this book, since this book explains very well all the aspects of Vitamin D3 and gives information I have never read in other places or books.
Also special thanks for so many recommendations for other sites/pages in the book 🙂
Viva D3! 🙂 Viva Jeff T Bowles!
Thank You Thank You!
And here was the first report I got from a lady in Alaska:
"I began my search to reduce pain and improve my overall health when I came across this book. I read it entirely in one evening and placed an order the following day for the supplements. It has been years since I have been able to lie flat on my back at night without any discomfort. Within a week, I found myself sleeping on my back. The throbbing pain in my leg going from my ankle to my hip was keeping me awake and during the day it would center around my knee. When I reached 20,000 IU of Vitamin D3, it went away. I dropped to 10,000 and it returned. I'm back on 20,000 and pain-free. A skin condition is showing improvement also. It's been less than 3 weeks that I began documenting results and I am truly amazed. And, if you want to contact the author, read his book, he gives you his email address and he actually cares enough to respond. I wanted to update my review by noting the improvement in my chronic asthma. I was born full-term but spent three days in an incubator because of my lungs. All my life I have struggled with the condition – even though I was a runner, I was always trying to catch my breath after the event. The virus that I recently caught would have put me in respiratory distress and the end result would have been pneumonia. I haven't had any difficulty breathing with the virus, only coughing. It's been a week now and today I'm almost completely back to better health and still taking Vitamin D3. I believe the D3 has had a significant role in my improved lung capacity. I'm barely using my rescue inhaler and I've cut down on my daily medications. I'm beginning the 30,000 dosage today, will see what this brings over the next two weeks and I'll update this review. Here's to better health for all…
Later Mrs. Rosecrans updated us about her experience…
I'm alive and planning on having my blood work done at our clinic soon. I have been able to stop using my meds for asthma (except for the emergency inhaler – which I rarely use) – have been on meds full-time since the 80's. I'm taking 20,000 daily – 30,000 still put me over the edge with attitude…feeling good…will close now as the last time I attempted to send my response was deleted before being sent….Suzette
So that's about it, but one more thing. The D3 case study search engine now contains some self-reported studies of high-dose magnesium users. They also report that magnesium seems to help their asthma, so if you want to make the high-dose D3/K2 therapy for asthma even more effective you might want to add a magnesium supplement.
Search engine>>  https://taked3.com/can-high-dose-vitamin-d3-cure-your-disease/
Jeff T Bowles: Being the author of the best-selling book on Vitamin D3 in the world, and given the topic of the book was the miraculous results of my one-year experiment of taking HIGH DOSES of Vitamin D3, this puts me in the unique position of being the sounding board for many hundreds, if not a few thousands of others who have embarked on their own high-dose Vitamin D3 experiment. Nobody on planet earth has this amount of unusual and exciting knowledge, and I will be sharing it with you in this series of 100 short articles describing a disease and some sort of amazing result achieved with high-dose D3 therapy.
UPDATE 6/2018
Just came across this study form Pakistan  about asthma sufferers  taking 50,000 IU per day for 2 months>>
Controlling Asthma with Daily, High Dose Vitamin D
A case control study using 100 patients in a private clinic in Pakistan found that vitamin D improved FEV1 measurements for asthmatics within two months, and even more by three months.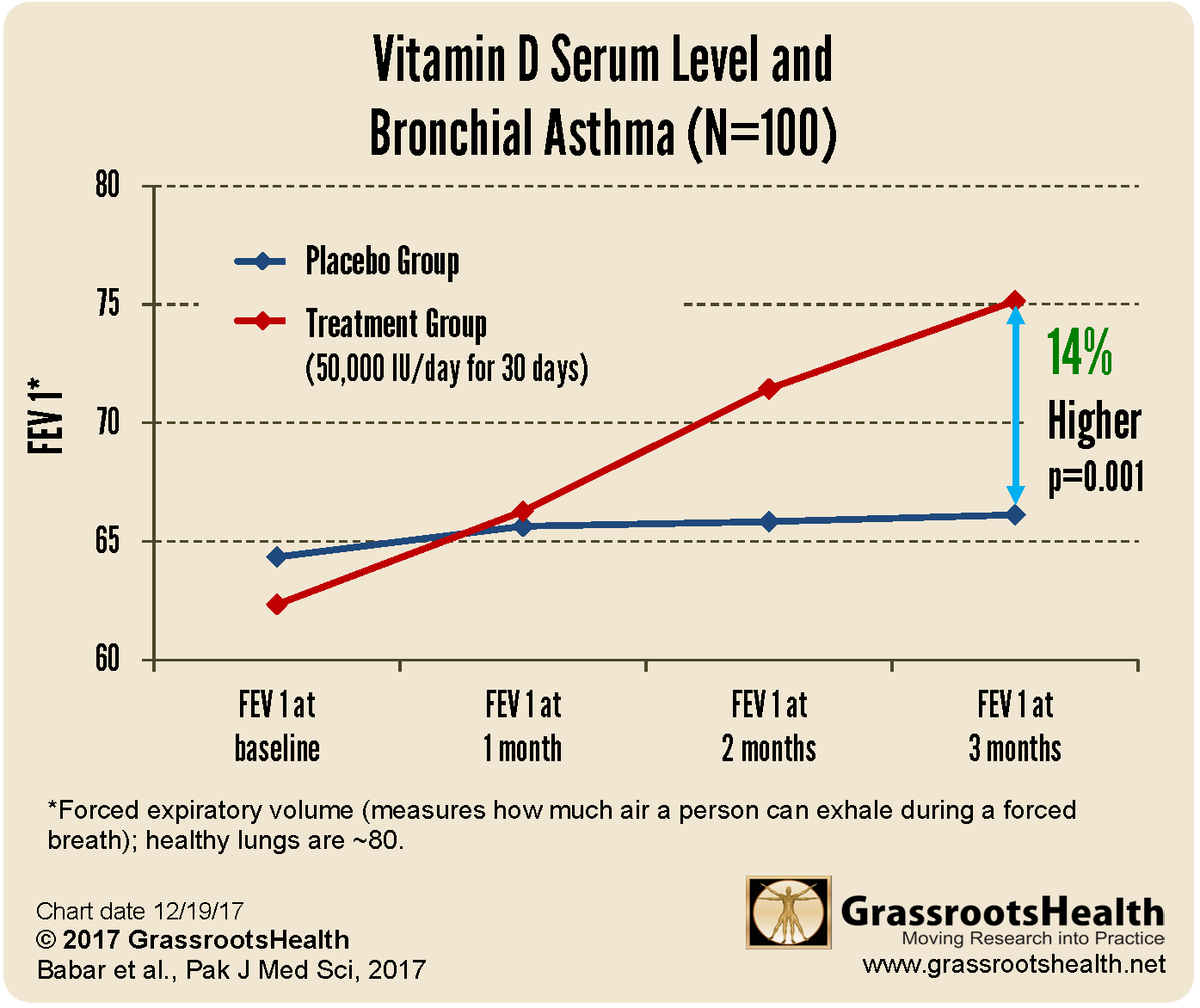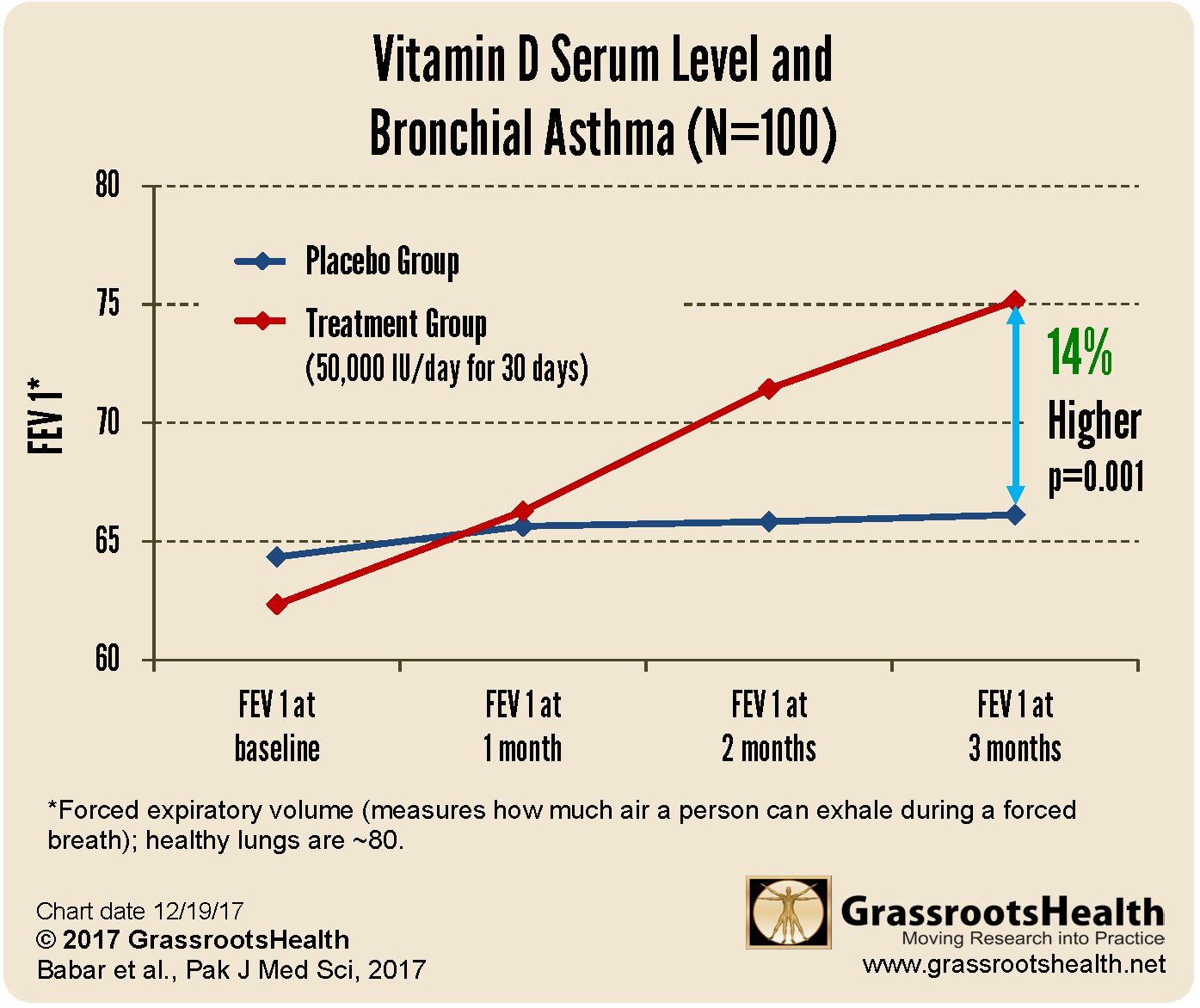 How the Study Was Made
The researchers took 100 patients within a private Pakistan medical practice aged 18 to 50 years and diagnosed with bronchial asthma. The patients were randomly divided into two groups – a treatment group (50,000 IU vitamin D3 per day for 30 days) and a control group (placebo). Standard asthma medication was continued with both groups. FEV1 measurements were taken at baseline, 1 month, 2 months and 3 months.
In the beginning both groups were very similar.
| | | |
| --- | --- | --- |
| Variable | Control Group | Treatment Group |
| Male/Female (N) | 26/24 | 29/21 |
| Age (years) | 26.50 +/- 5.50 | 27.6 +/- 6.50 |
| BMI (Kg/m2) | 24.75 +/- 3.20 | 26.70 +/- 6.40 |
| Duration of asthma | 12.40 +/- 3.50 | 11.66 +/- 3.05 |
| Pre-treatment vit D level (ng/ml) | 14.23 +/- 1.66 | 15.30 +/- 2.05 |
| Pre-treatment FEV1 | 64.35 +/- 3.16 | 62.35 +/- 2.16 |
What is FEV1?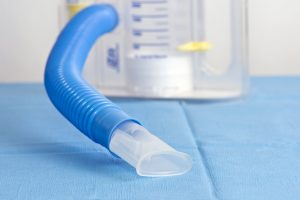 FEV1 is an abbreviation for "forced expiratory volume in 1 second." It is a common measurement used in testing lung conditions whereby a patient breathes out forcibly on a plastic tube device, called a spirometer, to determine the volume of air they can expel. FEV1 is often presented as a percentage of an expected value, based on factors including age, gender, height, and race. The Lung Institute has a good web page that describes it in more detail and this set of charts from the National Heart, Lung, and Blood Institute shows common values for adults and for asthmatics.
The average age of participants in this study was 26 years old, so a normal FEV1 for a 20-39 year old is 80%; persistent, moderate asthma would be between 60 and 80; and persistent, severe asthma less than 60.
Blood levels and Asthma
Initial vitamin D measurements showed an average of approximately 15 ng/ml (37 nmol/L) but measurements at the end of the study period were not reported. We do know that most every participant was deficient at the start and after an adequate dose of vitamin D to change their level a change  in FEV1 was noticed at 2 months.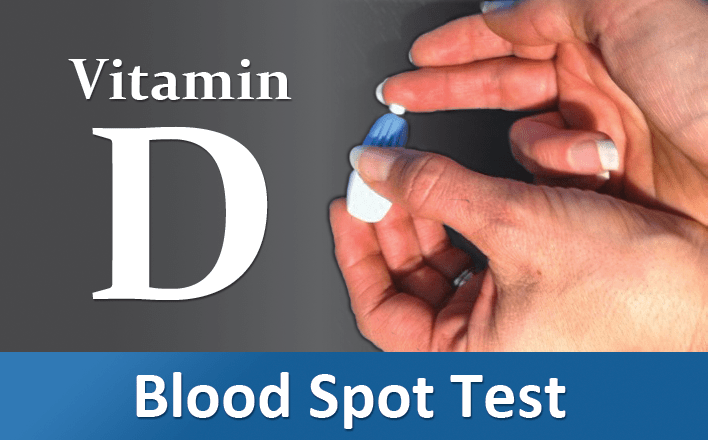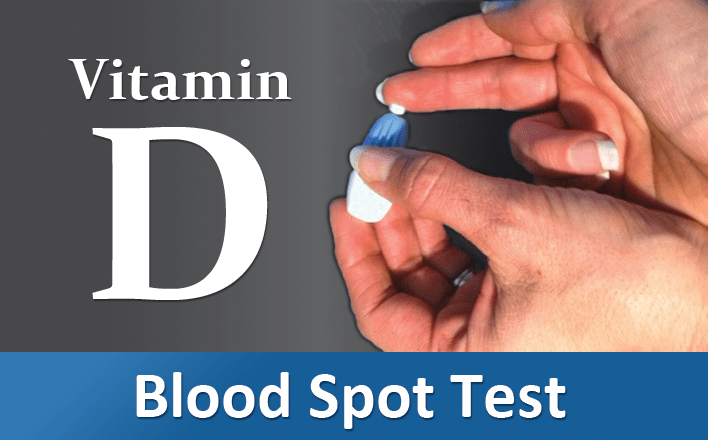 References
Vitamin D supplementation improves FEV1 in patients of Bronchial Asthma
Babar MZM et al.
Pakistan Journal of Medical Sciences
October 2017
And finally, if you plan on performing your own high dose Vitamin D3/Vitamin K2 experiment  to treat your asthma or other condition. You might want to consider buying bulk powder vitamins/hormones  rather than pills given the high doses involved  and the high cost of pills. For example Vitamin K2  can cost  $6,500 per gram if you buy Dr. Mercola's pills, 30X the cost of gold!! If you buy pure bulk K2 powder  you can get it for just $15 per gram. It's not just BigPharma who is ripping us off! Find out more from this article>>>>
How to Save 90%+ on Vitamins, Hormones:BUY Bulk Powder-Vit K2 Can Cost 30X More Than Gold!