LATITUDE & THE INCIDENCE OF DISEASE:
OVERWHELMING PROOF THAT
VITAMIN D3 DEFICIENCY
CAUSES
MOST HUMAN DISEASES
(Please note-. If you feel you have benefited from the information (AND YOU WILL), please  hit the share on Facebook/Twitter/Pininterest/LinkedIn buttons at the begining and /or end of this article. And spread the word)
It has been almost six years since I published what was to become the best-selling book about Vitamin D3 in the world – translated into 10 languages so far. I thought I knew everything about Vitamin D3 back when the book was first published because in preparing for writing the book, I read or reviewed all 52,000 abstracts of science journal articles in the Pub Med science database that mentioned Vitamin D.
However, in the last six years I have come up with a simple tactic to see if a disease is caused by Vitamin D3 deficiency and might be treatable with high-dose Vitamin D3. (I have heard from more than 1,000 people using high-dose Vitamin D3 to treat their various illnesses over the years, and have found that high-dose D3 is almost a miracle cure for up to 70 different diseases and conditions, including MS, lupus, depression, Crohn's disease, psoriasis, and many, many, more!) Of course, if you are new to Vitamin D3 your initial instinct would be to say:
"HA! If it sounds too good to be true – it probably is".
I assure you this is an exception to that rule as you will soon see and agree.
I will shortly give you MOUNTAINS of overwhelming proof that is really very amazing to consider, but first let me tell you how and why Vitamin D3 can have such miraculous effects on our health.
First of all, Vitamin D3 is not a vitamin!
It is actually a POWERFUL HORMONE that your body makes when sun hits your unprotected skin. It controls or affects  over 2,700+ genes in your DNA which are mostly involved with immune system modulation and tissue remodeling- you could say that it is the ultimate biologic. As opposed to biologic drugs that just  tweak one section of your immune system to either rev it up or tamp it down, Vitamin D3 tweaks all sections of your immune system at the same time without the dangerous side effects of biologics. Not only does it allow your immune system to "see" good tissues  better, thus eliminating all autoimmune attacks, it also revs up the "killer" part of your immune ssytem to attack infections from bacteria, fungi, and viruses as well as newly formed cancer cells.
D3 is a hormone that tells your body that winter is over and summer is here and your body can stop hibernating and can go ahead and repair any incompletely repaired issues you have using all the resources. Most of us humans find ourselves in a state with chronically low Vitamin D3 levels all year long due to sun avoidance and use of sunscreen. I called this state – the Human Hibernation Syndrome. It is when your body acts as if it is preparing for a long winter famine, conserving resources required for repair, slowing your metabolism, and urging you to conserve energy until the winter famine is over.
Vitamin D3 is referred to by some researchers as the bone and joint remodeling hormone, and given that I have found how many people also notice its ability to repair the skin and soft tissues; I prefer to call it the all-tissue remodeling hormone.
One of my favorite examples of what Vitamin D3 can do comes in the form of a study they did on some rats. One group of rats received Vitamin D3 in their food while the other group did not. They then broke the poor rats' legs and then observed how they healed. The rats on a normal diet had healed legs where there was a large glob of extra bone around the break, like it was held together by a big ball of clay. The rats getting Vitamin D3 had perfectly healed fractures and you could not even notice where the break had been! This study says it all – what D3 can do for rat bones it can do for virtually any tissue in your body.
The following illustration is not from the study noted but it gives you an idea: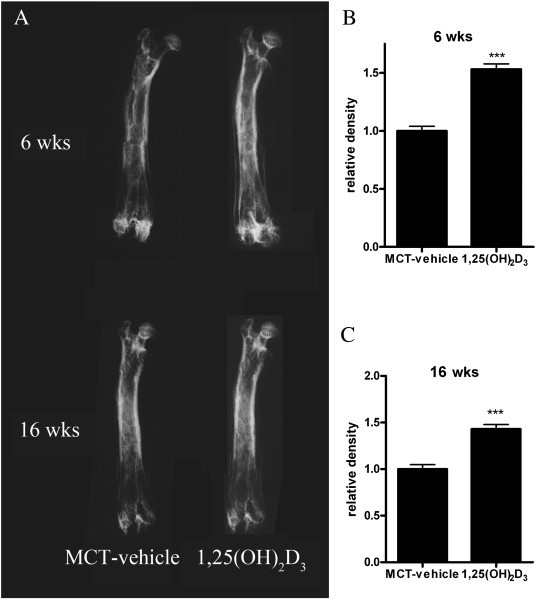 Basically, your body knows what shape it is supposed to be in. There is an exact blueprint of your entire body located in the DNA in the nucleus of each cell in your body. If your body has a chronic issue or incomplete repair, it is not an accident or loss of blueprint information. It just means your body is waiting until it gets the signal that conditions are right to do the repairs properly. That signal comes in the form of Vitamin D3.
That condition is when summer returns and your Vitamin D3 levels go up and tell your body to go ahead and undo any partial repairs and to redo all the repairs perfectly using all resources necessary.
So that's it, now let's heap the overwhelming proof on you that is so easy to see. I will simply google-search a long list of diseases, along with the search term latitude, view the google images, and see if there are illustrations showing the incidence of a particular disease that varies in incidence with latitude. If the disease is found at lower rates near the equator and increases as you move away into latitudes with weaker sun, you can bet that it is a Vitamin D3 deficiency related disease
Let's start with Multiple Sclerosis (my next case study article will be about the 1,000's of people all over the world who are curing their MS with high-dose Vitamin D3) Here is a graph from a study: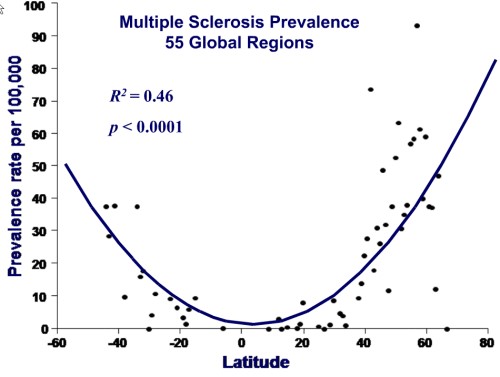 Or another way to look at it: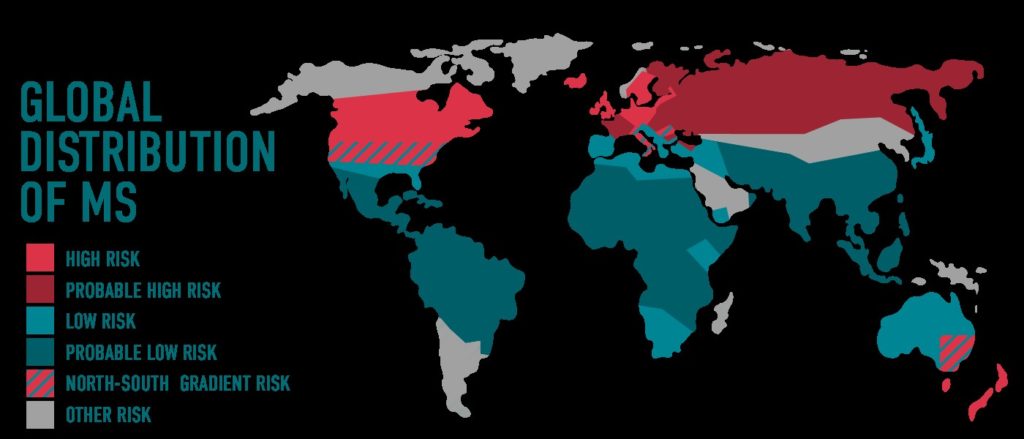 Let's try breast cancer:
(Oddly- the 23.4 degree (North) circle of latitude around the world is called the Tropic of Cancer, and you will see at latitudes north of 23.4N have much higher cancer rates than south of it! – Now that's quite a coincidence).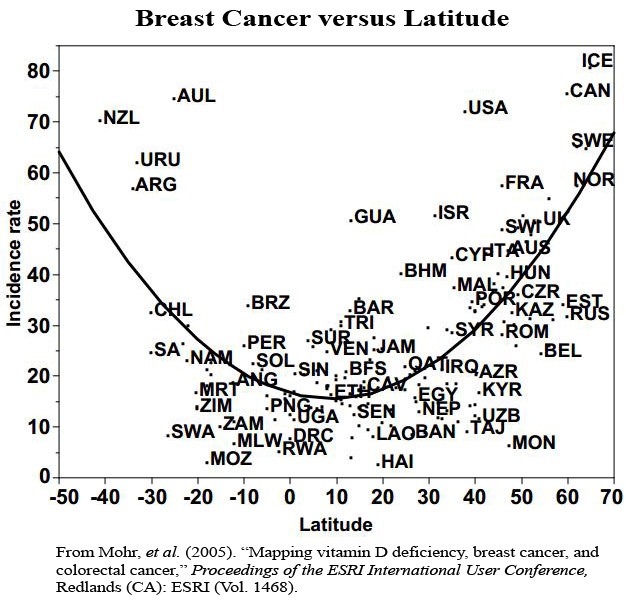 How about Colon Cancer?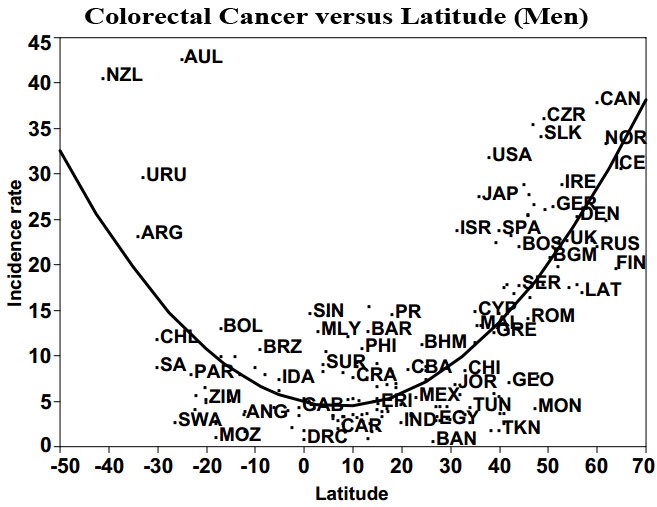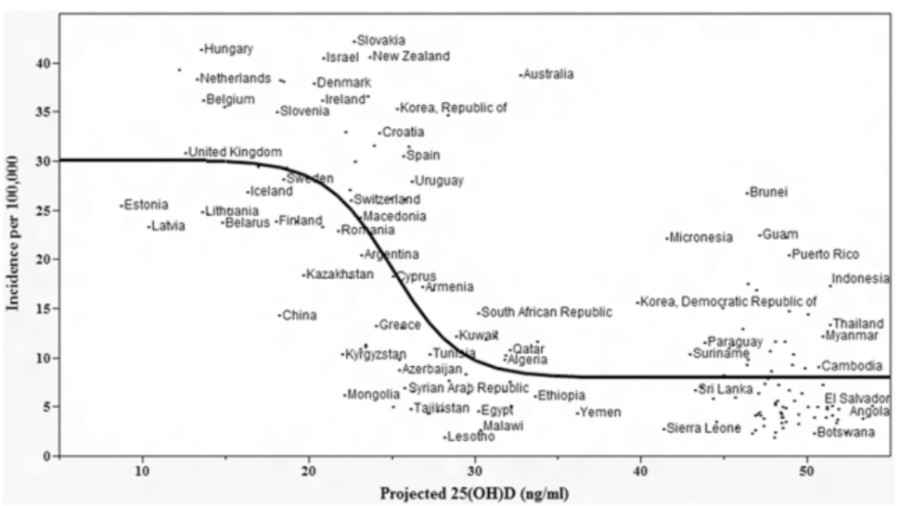 Kidney Cancer: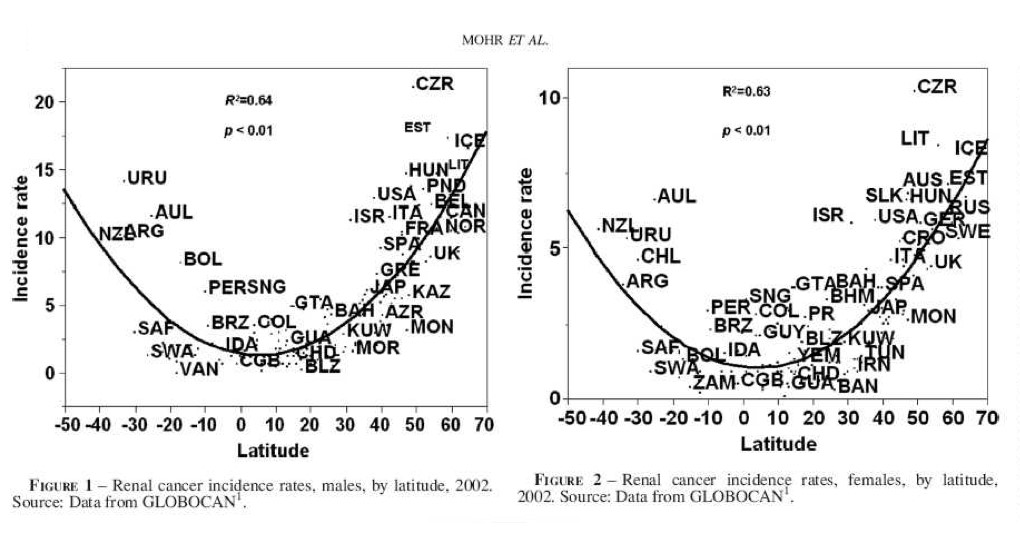 Let's look at Crohn's Disease and Ulcerative Colitis: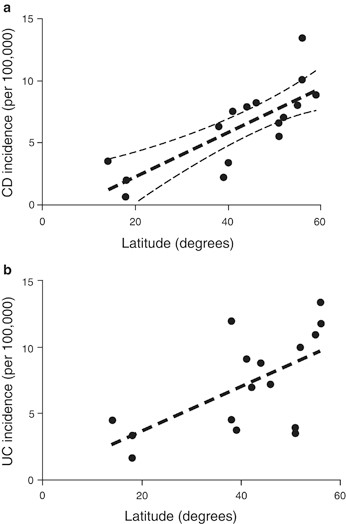 Psoriasis?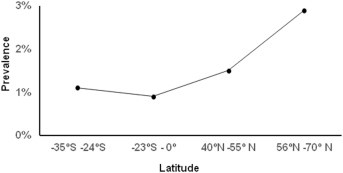 Lupus in the UK: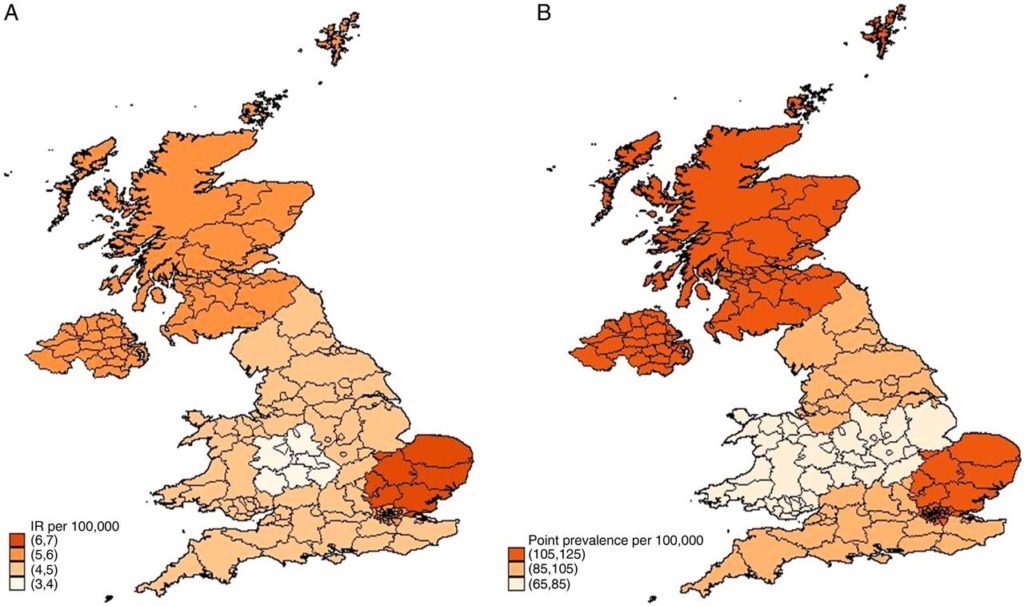 (When you see an anomaly of a high prevalence area where low incidence should be expected, it often is caused by a larger proportion of dark-skinned individuals living in that area. Because it takes a lot more sun in darker skinned individuals to make Vitamin D3 than in lighter skinned ones).
Diabetes (Type 1-Juvenile):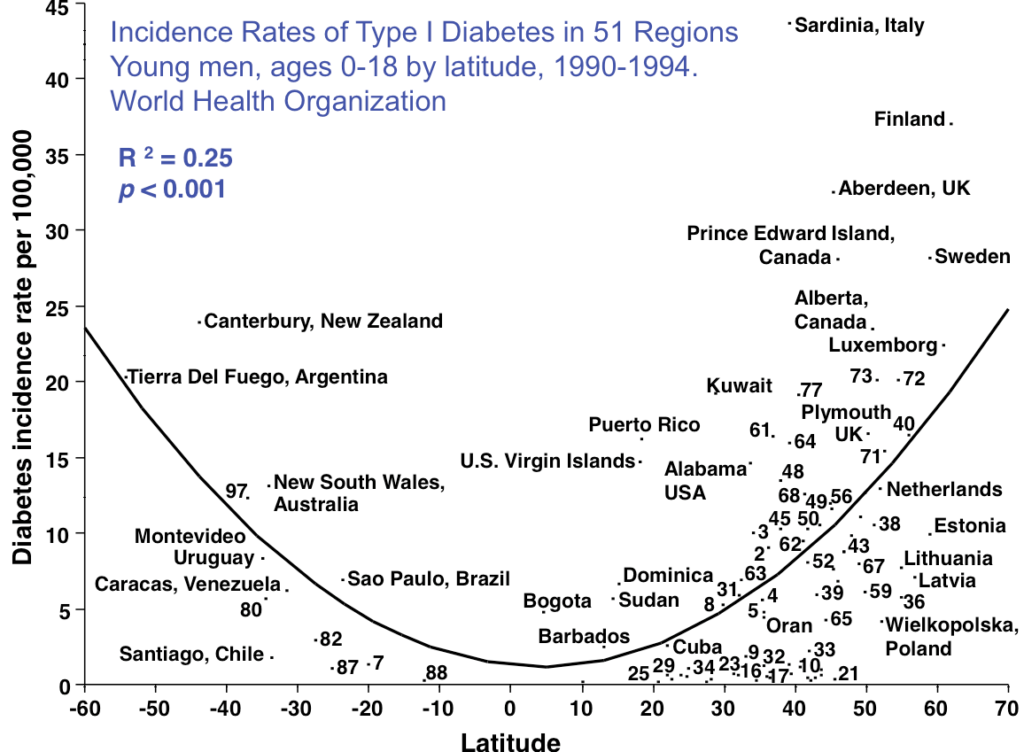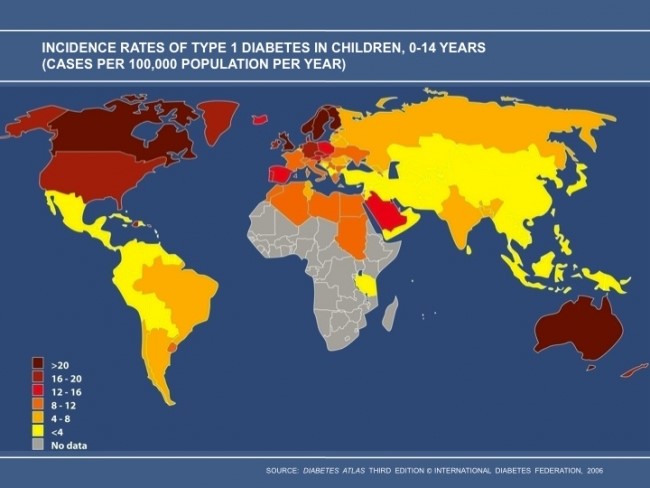 Diabetes (Type 1-Juvenile) cont'd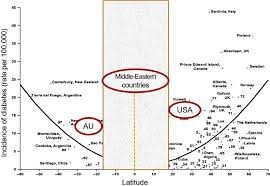 (Keep in mind that  sun avoidance is like a religion in the Middle East).
Leukemia vs Latitude: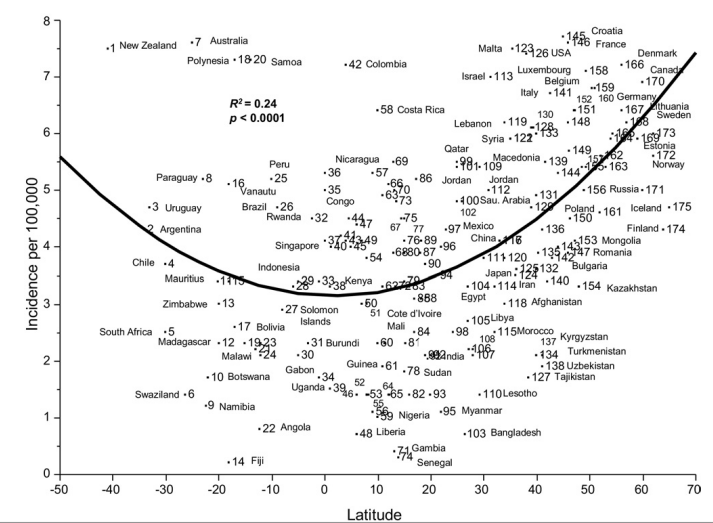 Leukemia vs Cloud Cover: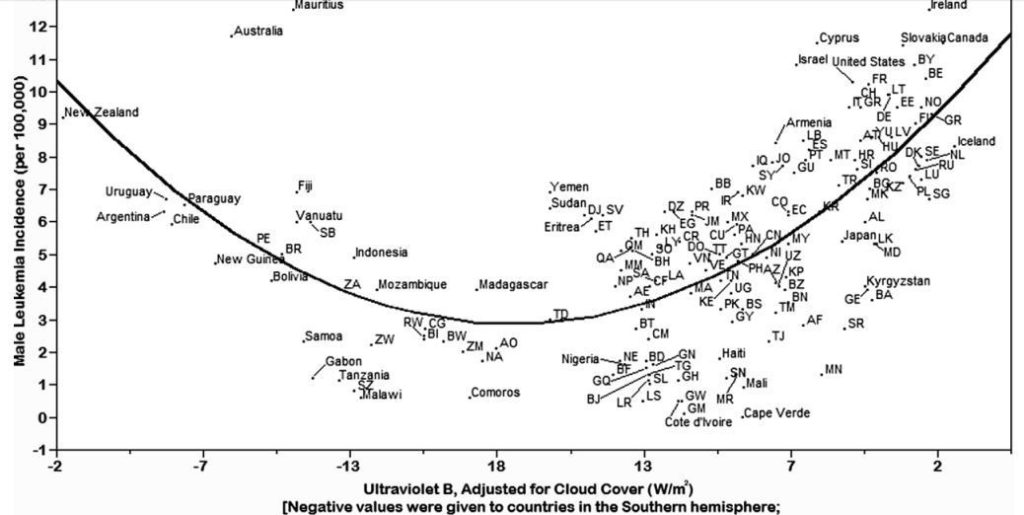 Multiple Myeloma: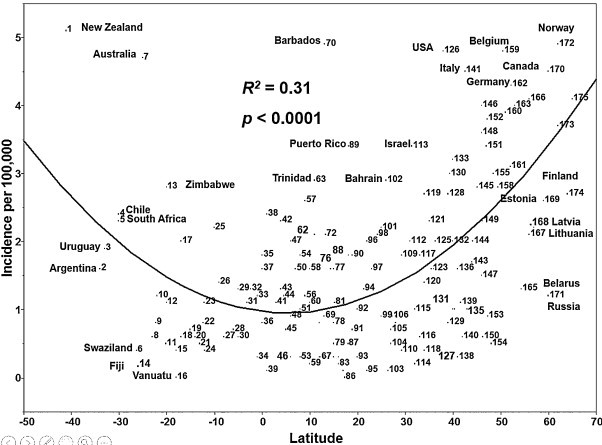 Overall Cancer Rates vs Latitude: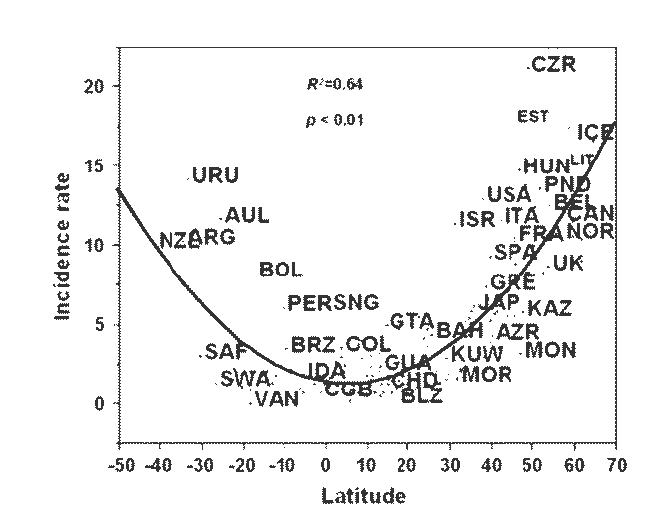 Hypertension: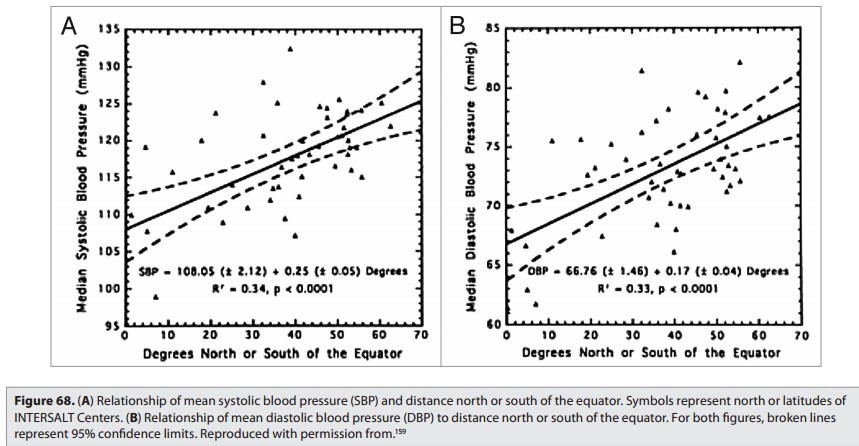 Tuberculosis: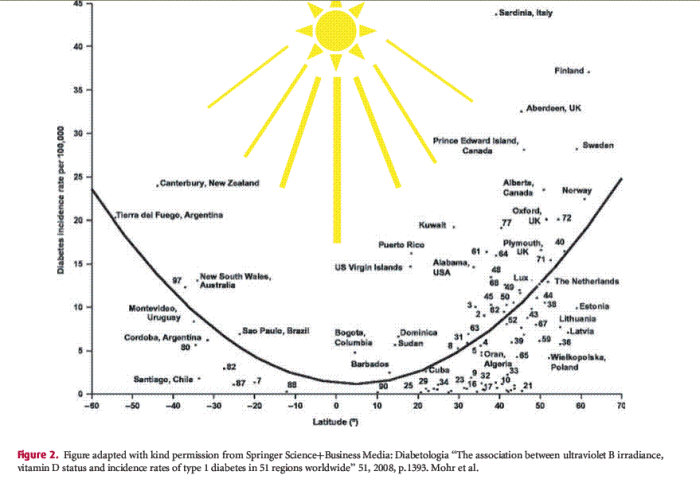 Asthma: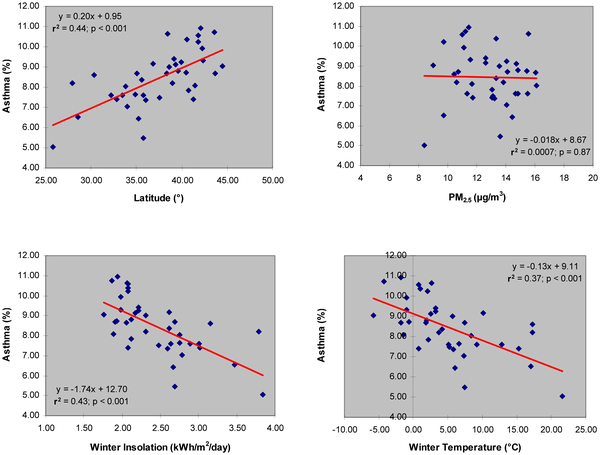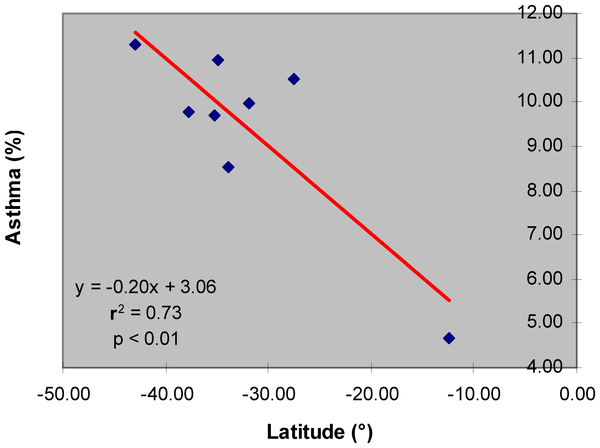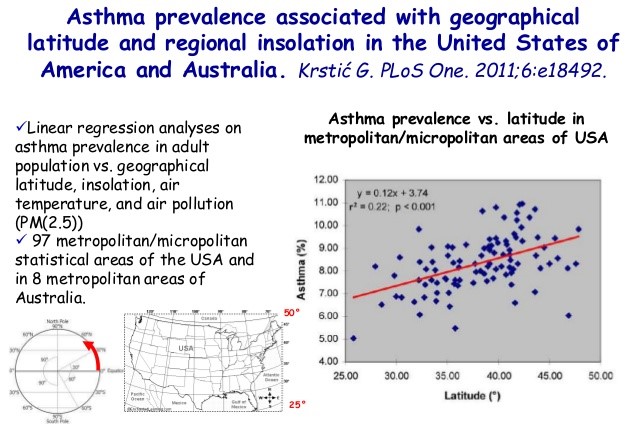 Allergies: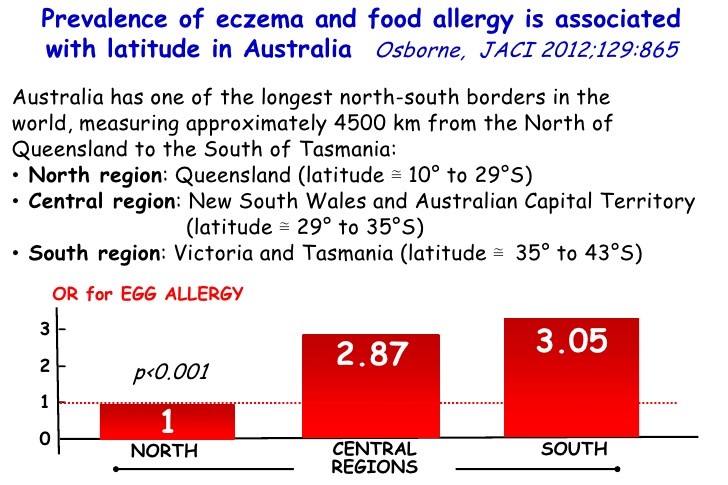 Depression & Suicide: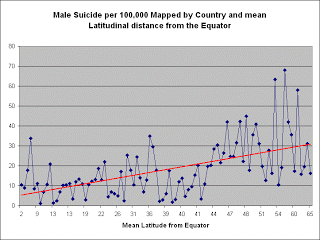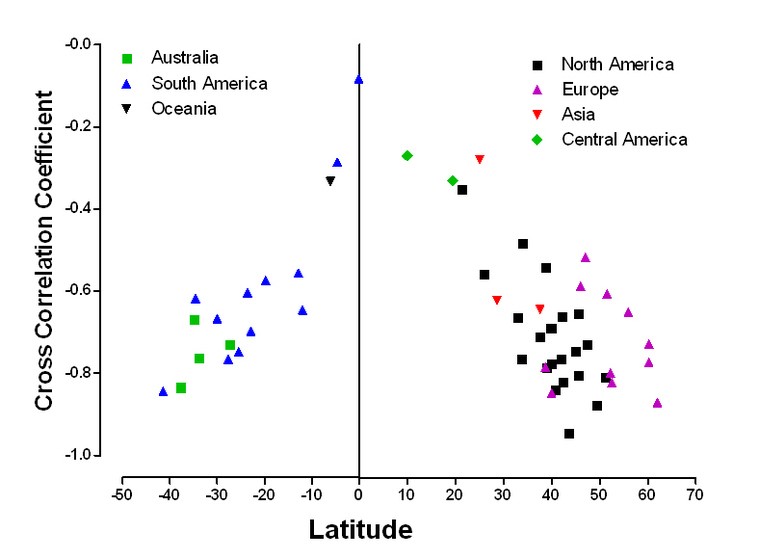 Alcoholism: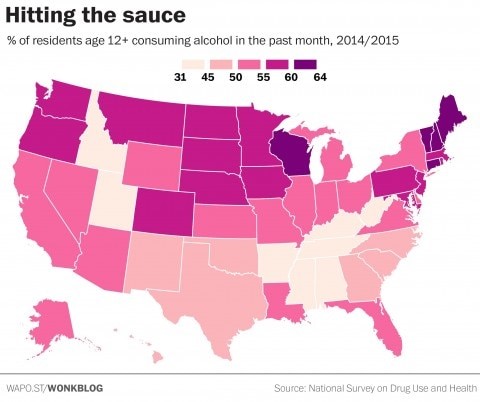 Schizophrenia:
Where are people affected?
So where in the world are there more people in a population living with schizophrenia? The answer comes from a research team who has written multiple papers on the different environmental risk factors for schizophrenia. The study took data from 162 research projects and looked at the incidence and prevalence of schizophrenia within low (equator to 30 degrees), medium (30 to 60 degrees), and high (above 60 degrees) latitudes. While there was little variation found between these latitude ranges for females, there was a significant increase of incidence and prevalence of schizophrenia for males the higher the latitude is.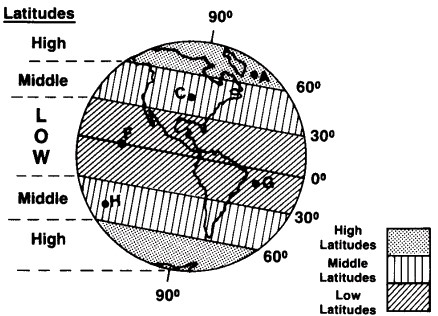 There have been studies that show people with schizophrenia tend to be born during the winter/spring months. There are also theories that say there could be a correlation between the amount of vitamin D a pregnant woman has during the pregnancy of a fetus who then goes on to develop schizophrenia.
Glaucoma in the US (caused by exfoliative syndrome):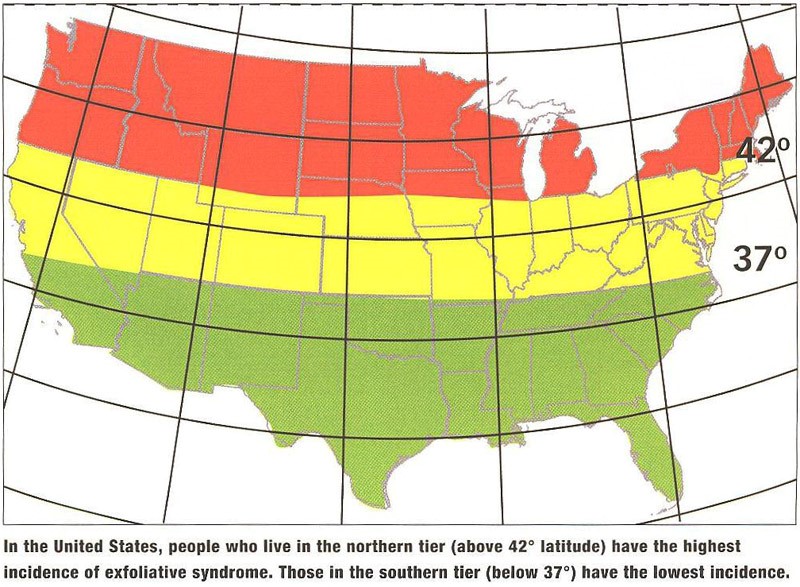 Autism:
A review of prevalence studies of Autism Spectrum Disorder by latitude and solar irradiance impact
Author links open overlay panel Somayya Syeda Kathleen A.Mooreab EvitaM archa
https://doi.org/10.1016/j.mehy.2017.09.012Get rights and content
Abstract
Autism Spectrum Disorder (ASD) is a lifelong disability with no known cause or cure. Among the suggested etiologies, is Cannell's hypothesis of a deficiency in Vitamin D the main natural source of which is Solar Ultraviolet-B (UVB) radiation. The aim in this paper is to build on this hypothesis and explore the relationship of solar irradiance of which UVB is a component, by latitude with the prevalence rates of ASD. Twenty-five reports published between 2011 and 2016 using comparable diagnostic criteria were reviewed. The results suggest a tendency for the prevalence rates of ASD to be lowest in countries near the equator and for this rate to increase as the latitude increases. These findings provide some support not just for the Vitamin D hypothesis, but also for a new proposition that along with UVB radiation, the entire solar radiation spectrum which reaches the earth, may play a role in ASD. While these results are both novel and encouraging in terms of the potential efficacy of exposure to natural sunlight, further research is warranted before results can be considered definitive, and before the implications of the findings can be implemented clinically.
In addition to the latitude effect, we have an
INCREASING PREVALENCE SINCE 1980 EFFECT!
What happened around 1980?
Many more of us started using sunscreen and using more powerful sunscreens while also avoiding the sun: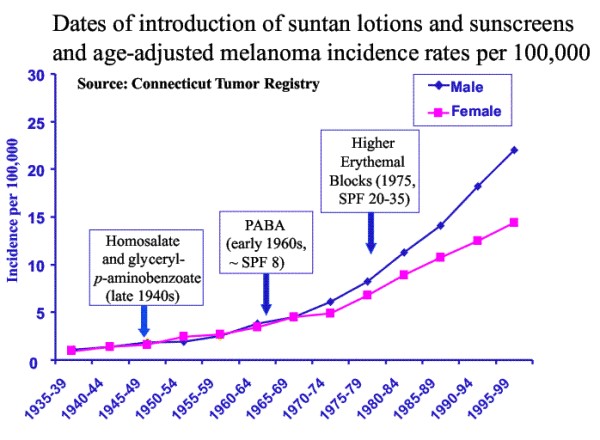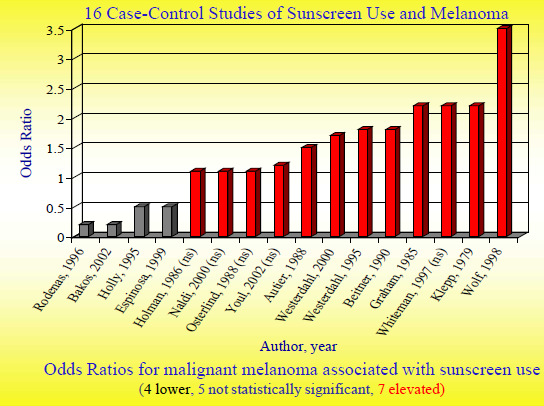 Sun avoidance is associated with earlier death: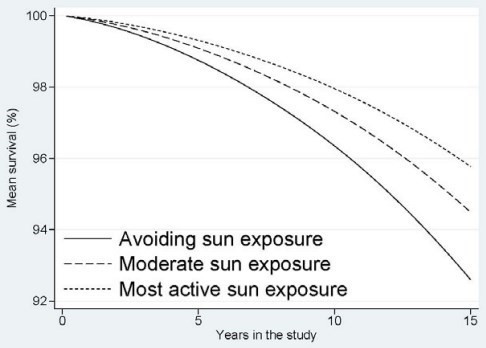 Darker skinned people need more and stronger sun to make the same amount of Vitamin D3 as lighter skinned people in the Northern latitudes – explaining the higher incidence of many diseases seen in darker skinned people living away from the equator.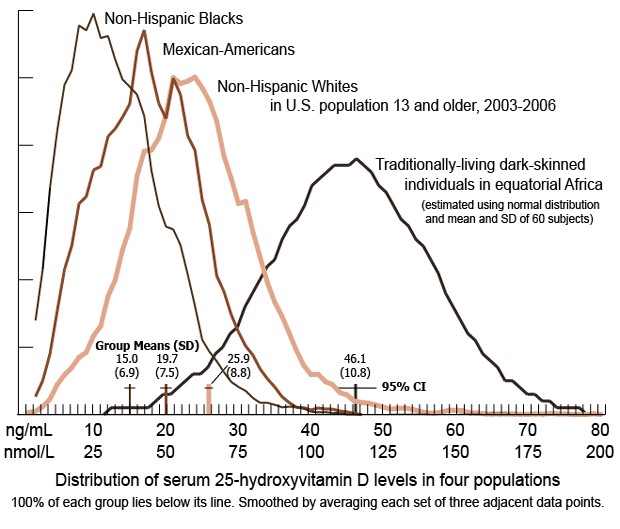 All of this sunscreen use and sun avoidance since at least the 1980's has led to an explosive rise in many diseases as you will see in the illustrations that follow:
Cancer: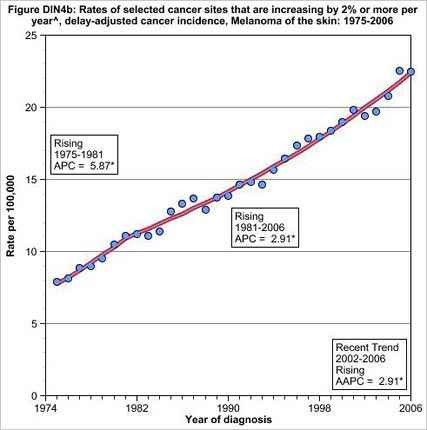 Bi-polar Disease: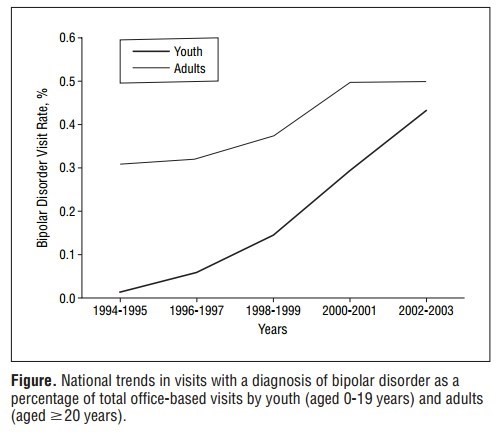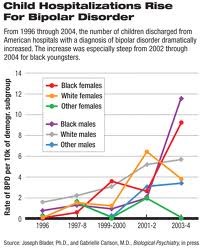 Bi-polar as a % of all youth admissions: 0.01% (1994-1995), 0.44% (2002-2003
From Bipolar Disorder In Children–A Diagnosis in the Doghouse April 2012
Autism rates have EXPLODED!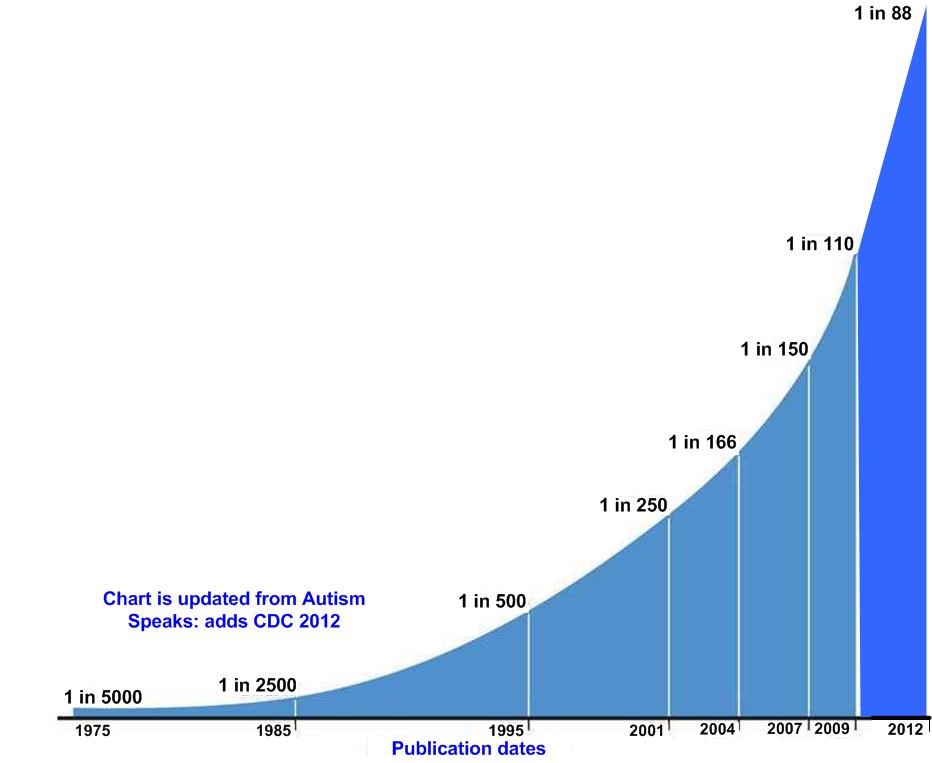 The Obesity Epidemic!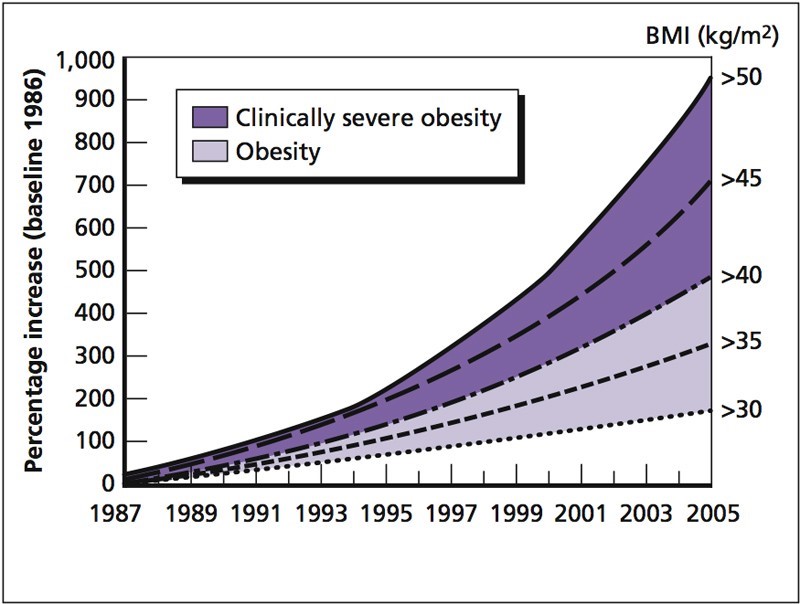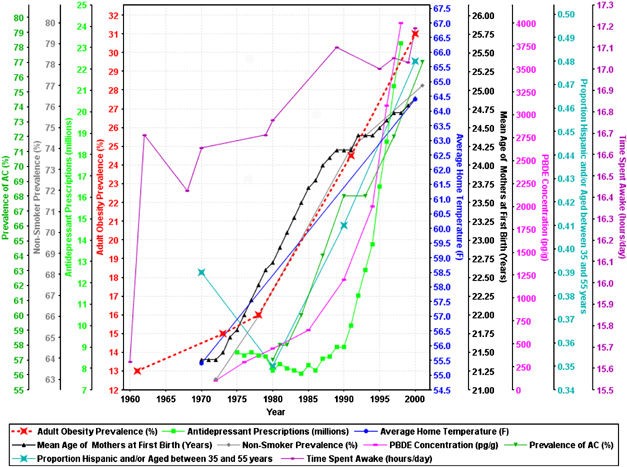 Asthma, Eczema, and Allergies: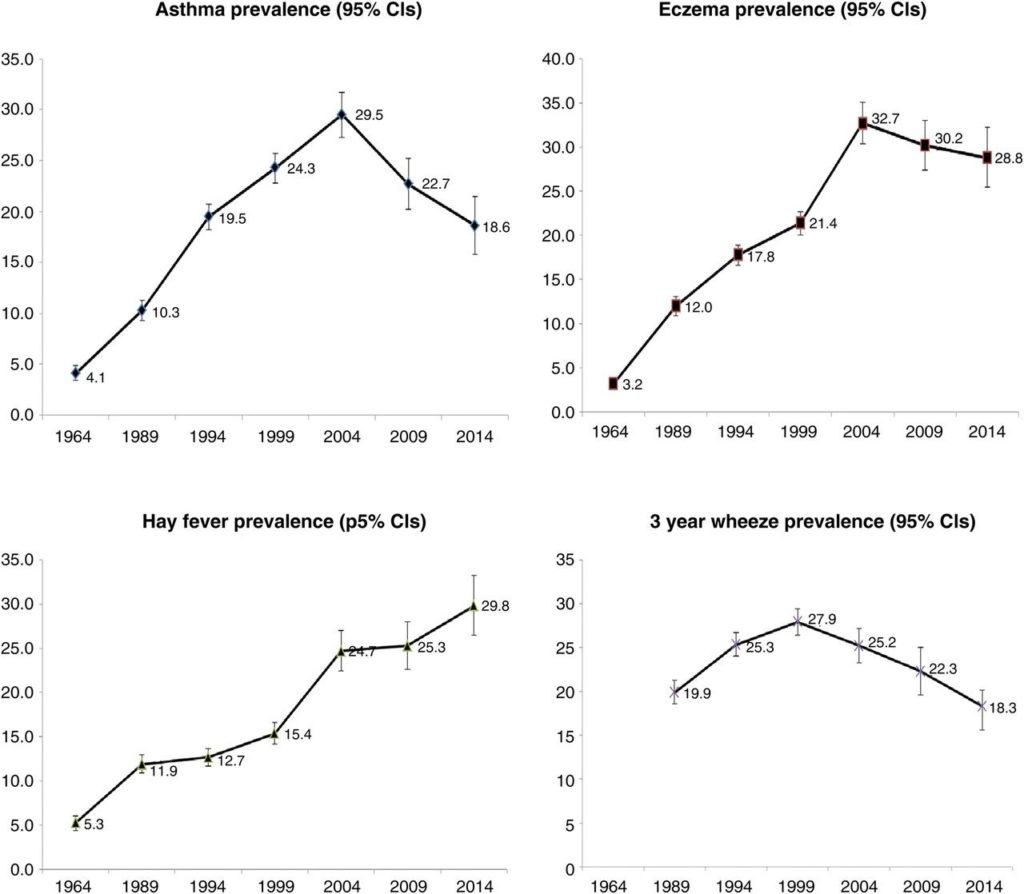 Food & Peanut Allergies: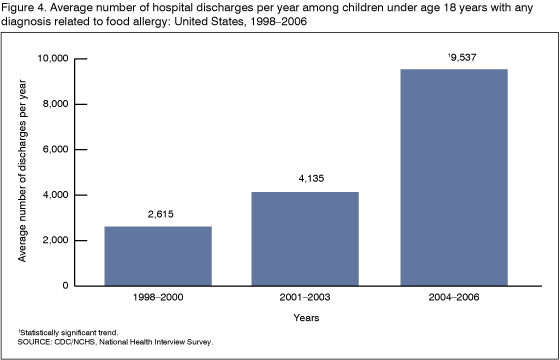 Celiac Disease (Gluten Intolerance):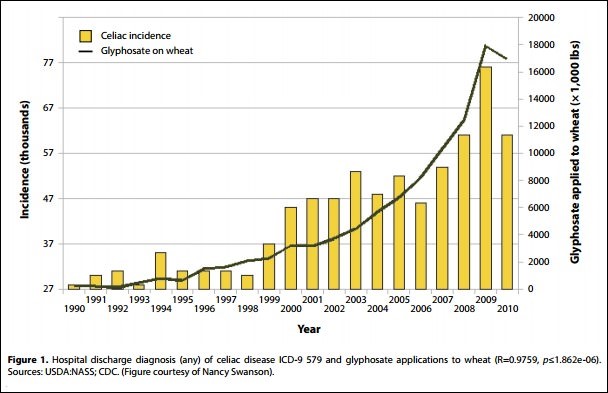 Multiple Sclerosis is  increasing: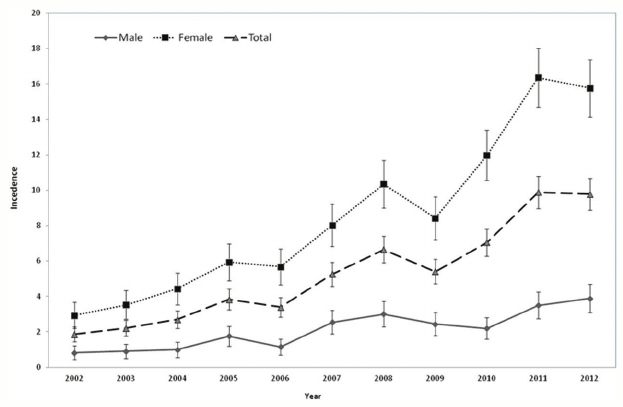 Type 1 (Juvenile) Diabetes: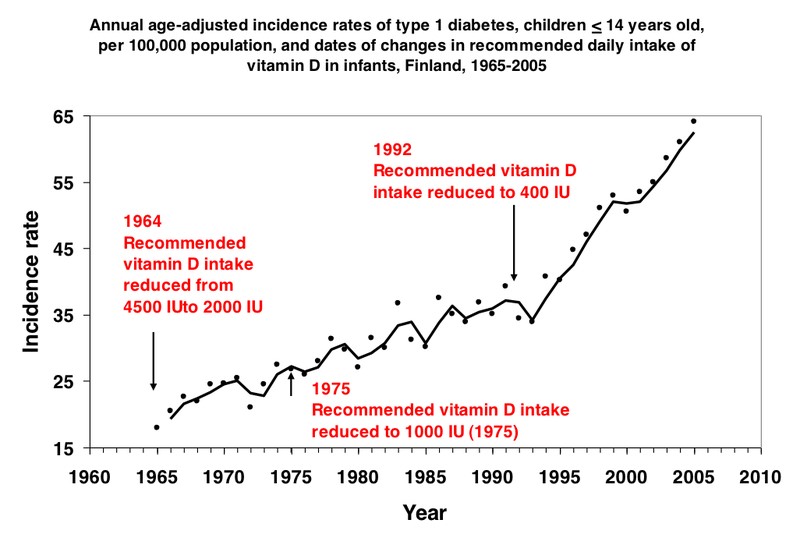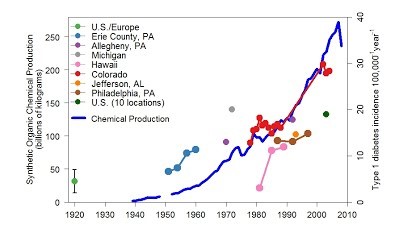 Type II (Adult) Diabetes: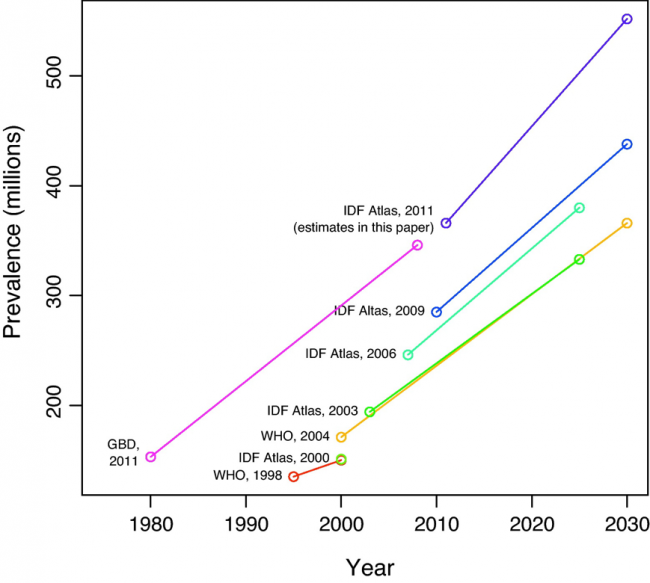 Childhood Cancer: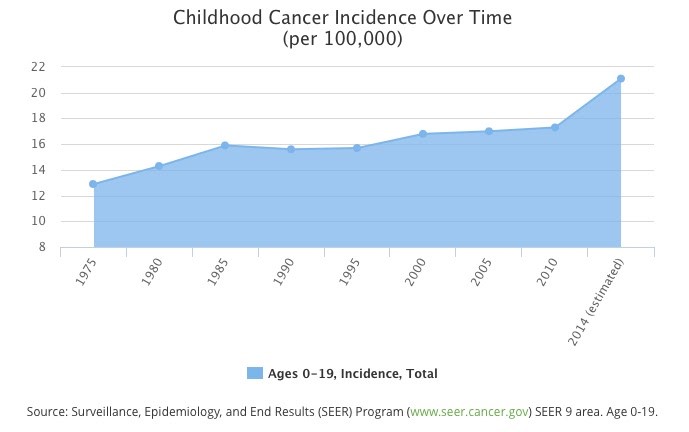 Thyroid Cancer – Exploding!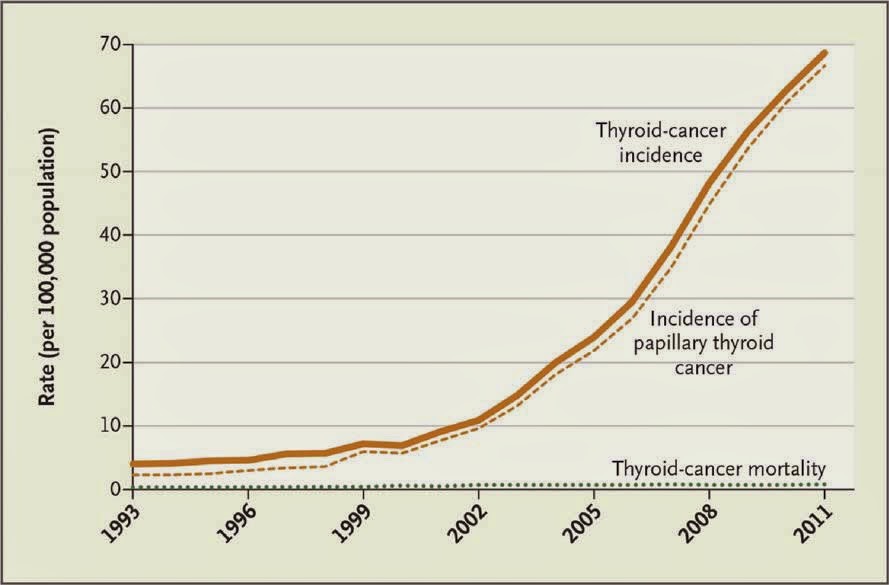 Malignant Melanoma: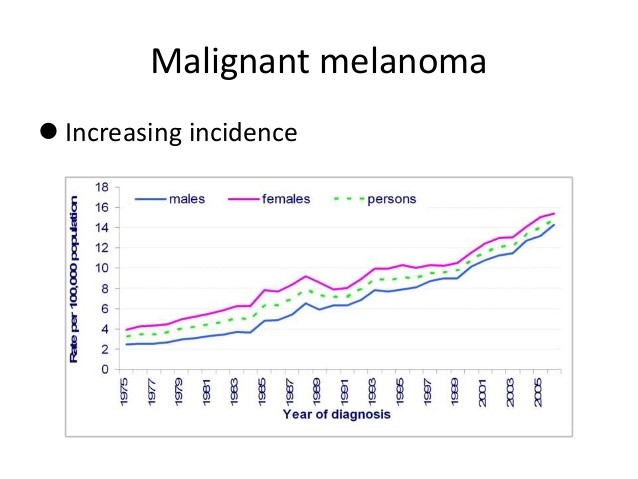 Various Cancers: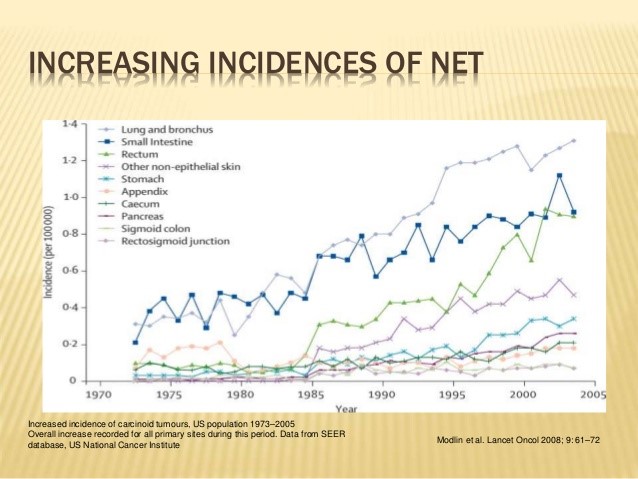 Parkinson's Incidence – Increasing in Rural areas (Farmers Using Sunscreen?)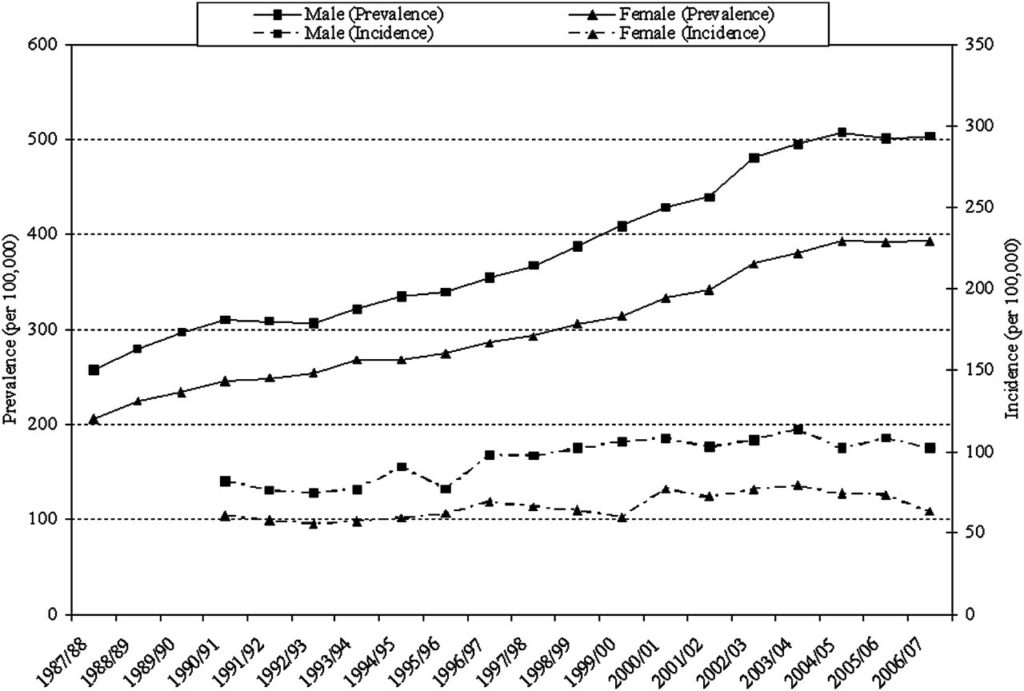 So that's about it, the evidence, I believe is OVERWHELMING. And that is why I call Vitamin D3 deficiency the SMOKING CANNON for the cause of many diseases as well as the cause of the many epidemics of disease the world has been experiencing since the 1980's.
I leave you with a table that describes the genes that put you at risk for autoimmune diseases. They almost all are related to the Vitamin D3 receptor genes. The good thing is that most Vitamin D3 receptor defects can be overcome simply by taking much higher doses of Vitamin D3.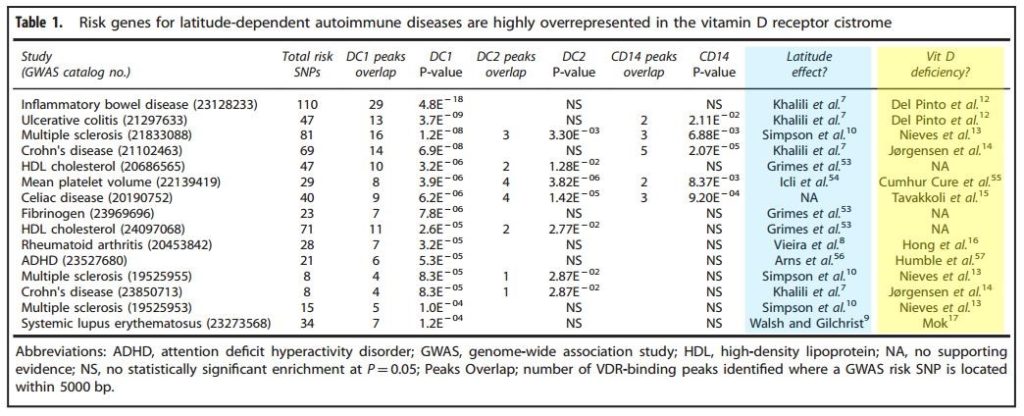 PS – PLEASE SHARE this information with all your friends and family….help spread the word….  (see share buttons below)
PPS- From time to time, as I find additional diseases or conditions that show a latitude effect  and/or  an increase after 1980 effect and thus will likely be treatable with long-term, high-dose Vitamin D3 for 6 to 12 months (the time it takes to remodel one's immune system back to normal)  I will add them here at the end of the article  (please don't forget to click the share button at the end!) Don't be a freeloader!- It is bad luck!! Just click the share buttons for a GOOD KARMA boost!
-Wegner's Disease and Vasculitis
https://www.ncbi.nlm.nih.gov/pubmed/19143878
Author information: (1)Department of Human Immunology, Institute of Medical and Veterinary Science, Adelaide, South Australia, Australia. [email protected]. BACKGROUND: The epidemiology of Wegener's granulomatosis (WG) has shown a latitude-dependent predisposition in Northern Hemisphere and in …
https://www.ncbi.nlm.nih.gov/m/pubmed/17388864
Abstract. BACKGROUND: The aim of the study was to determine whether there was evidence for a geographic gradient in the incidence of Wegener's granulomatosis (WG) and WG-like disease in New Zealand (NZ). METHODS: The National Minimum Dataset of the Ministry of Health, NZ was searched for individual patient …
'Migraines- There appears to be a latitiude gradient suggesting it is Vitamin D3 related
Treatment for Headache Prevalence Vs. Latitude
And another great clue! Almost every Vitamin D3 deficiency related disease is seen in women at a much higher rate than men FYI (except autism-unless oyu consider that a disease of the birth mother)…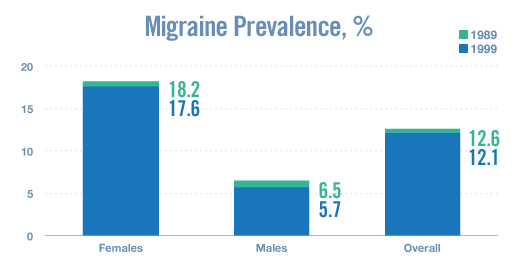 -Vitiligo
https://www.ncbi.nlm.nih.gov/pmc/articles/PMC3947737/
Feb 13, 2014 – We used logistic regression models to estimate the association between gender and clinical characteristics of vitiligo and to evaluate the factors …. Males were significantly less likely to report onset of vitiligo in the age of 25 to 45 years compared with females in our population (odds ratio(OR): 0.38, 95% ..
www.greenmedinfo.com/…/high-dose-vitamin-d-dramatically-improves-psoriasis-and…
Sep 9, 2017 – A pilot study illuminates that high-dose vitamin D significantly improves lesions and depigmentation in psoriasis and vitiligo, respectively. Because Vitamin D deficiency is implicated in the pathophysiology of autoimmune responses, these findings may be applicable to other autoimmune disorders.

Ovarian Cancer-
Link Between Ovarian Cancer,
Vitamin D Status Seen Worldwide
October 31, 2006
By Nancy Stringer
Using newly available data on worldwide cancer incidence, researchers at the Moores Cancer Center at UCSD have shown a clear association between deficiency in exposure to sunlight, specifically ultraviolet B (UVB), and ovarian cancer. UVB exposure triggers photosynthesis of vitamin D3 in the body. This form of vitamin D also is available through diet and supplements.
Anaphylaxis-an acute allergic reaction to an antigen (e.g., a bee sting) to which the body has become hypersensitive.
ADHD-

Biol Psychiatry. 2013 Oct 15;74(8):585-90. doi: 10.1016/j.biopsych.2013.02.010. Epub 2013 Mar 21.
Geographic variation in the prevalence of attention-deficit/hyperactivity disorder: the sunny perspective.
Arns M1, van der Heijden KB, Arnold LE, Kenemans JL.
 Abstract
BACKGROUND:Attention-deficit/hyperactivity disorder (ADHD) is the most common psychiatric disorder of childhood, with average worldwide prevalence of 5.3%, varying by region.
METHODS:We assessed the relationship between the prevalence of ADHD and solar intensity (SI) (kilowatt hours/square meters/day) on the basis of multinational and cross-state studies. Prevalence data for the U.S. were based on self-report of professional diagnoses; prevalence data for the other countries were based on diagnostic assessment. The SI data were obtained from national institutes.
RESULTS: In three datasets (across 49 U.S. states for 2003 and 2007, and across 9 non-U.S. countries) a relationship between SI and the prevalence of ADHD was found, explaining 34%-57% of the variance in ADHD prevalence, with high SI having an apparent preventative effect. Controlling for low birth weight, infant mortality, average income (socioeconomic status), latitude, and other relevant factors did not change these findings. Furthermore, these findings were specific to ADHD, not found for the prevalence of autism spectrum disorders or major depressive disorder.
CONCLUSIONS:In this study we found a lower prevalence of ADHD in areas with high SI for both U.S. and non-U.S. data. This association has not been reported before in the literature. The preventative effect of high SI might be related to an improvement of circadian clock disturbances, which have recently been associated with ADHD. These findings likely apply to a substantial subgroup of ADHD patients and have major implications in our understanding of the etiology and possibly prevention of ADHD by medical professionals, schools, parents, and manufacturers of mobile devices.
Lung Cancer- 
Interestingly, once you get lung cancer, having high levels of Vitamin D3 improves your odds of surviving!!!!   Can even highe levelsof D3  cure one's cancer????We need to do the experiments…ourselves,,,,,,Big Pharma won't  !
and the chart below suggests a dosage effect. Note the highest dose of 81 nmol/L  converts to 32 ng/ml which is the US measure. The US reference range is 30 to 100 ng/ml , and lifeguards routinely achieve D3 levels of 125 ng/ml. It would be interesting to see what effect a blood level of 150 ng/ml+ of D3 would have on lung cancer outcomes! Data like this suggests that high dose D3  might even be a good treatment for cancer. I will have to look into this soon.
Also, lung cancer rates for never-smokers is jumping dramatically in recent years , MORE THAN DOUBLING  since 1990,   and is found, like every other vitamin D3 deficiency related disease, at a much higher rate in women than in men.
"Evaluating comparable groups of males and females, rates of non–smoking-associated lung cancer were consistently higher among females in the NHS, MEC, U/OLCR, and NHEFS cohorts compared with males in the HPFS, MEC, U/OLCR, and NHEFS cohorts. The higher rate among females suggests sex-based differences in either susceptibility or exposure to risk factors (such as secondhand smoke) for non–smoking-associated lung cancer."
From- THORACIC ONCOLOGY Journal of Clinical Oncology – published online before print September 21, 2016-Lung Cancer Incidence in Never Smokers
Medscape Medical News from the
Lung Cancer Rates Surging in Never-Smokers Roxanne Nelson September 09, 2015
The second study demonstrated that the incidence of lung cancer in never-smokers is increasing in the United States. This was observed in three facilities, most significantly for NSCLC. At one institution, for example, the rate of never-smokers climbed from 8.9% in 1990–1995 to 19.5% in 2011–2013.
Prostate Cancer-
Dementia/Azheimer's-
From Epidemiology. Author manuscript; available in PMC 2016 Mar 1.Epidemiology. 2015 Mar; 26(2): 263–270.Geographical variation in dementia:
examining the role of environmental factors in Sweden and Scotland
Dementia rates may vary with latitude
Now it seems the risk of developing dementia might be greater for people at higher latitudes.Dementia is a catch-all term for several conditions that impair mental functioning seriously enough to interfere with daily life, such as Alzheimer's disease.It's well-established that genetics play a role in causing dementia. But there's been little research on environmental factors that might be involved.Public health officials generally assume that dementia is equally common everywhere you go. So, an international group of researchers decided to see if that assumption should be challenged.Their findings were published in a recent issue of the journal Epidemiology.The study involved health data on older people, including about twenty-seven-thousand older twins living in Sweden.The results showed that if one twin lived further north than the other, the overall dementia risk was two or three times greater for that twin, compared with the one farther south.
Parkinson's Disease-
Oddly, this disease is seen at a 50% higher rate in men than women which is rare amongst Vitamin D3 deficiency related diseases. Possibly occupational factors come into play and if these were factored out the sex ratio would reverse?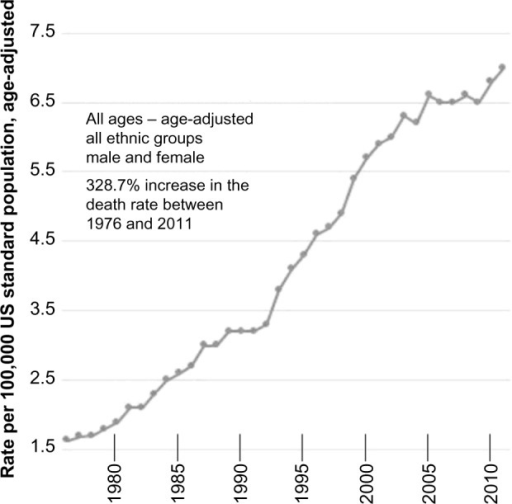 Cholesterol Levels-
Cataracts-
This is a tricky one because it is thought that exposure to UV light increases the incidence of cataracts, however,  it also increases Vitamin D3 levels which should counteract  cataracts via eye lens remodeling. A better study would be to compare  Vitamin D3 levels to incidence of cataracts to attempt to remove the confounding variable of possible UV damage to the eye.
So here is information on that question>>
In five early-stage PSC patients taking 5,000 IU of 25-OH D daily for vitamin D deficiency, there was resolution of their cataracts during the 2-year follow-up period. CONCLUSION: Vitamin D levels for most PSC patients fell below the 30 ng/mL calcium homeostasis threshold.
Jun 16, 2015
In five early-stage PSC (cataracts) patients taking 5,000 IU of 25-OH D daily for vitamin D deficiency, there was resolution of their cataracts during the 2-year follow-up period. CONCLUSION: Vitamin D levels for most PSC patients fell below the 30 ng/mL calcium homeostasis threshold.Jun 16, 2015
Original Investigation
March 

2016 Geogrpahic Variation in the Rate and Timing of Cataract Surgery Among US Communities
Courtny, Y
; 
Taylor S. Blachley, MS1
; 
Paul R. Lichter, MD, MS1
; 
et al
Importance  Previous studies using data from the 1980s found relatively little geographic variation in cataract surgery rates across the United States. We do not know whether similar patterns hold true today, nor do we know the patient- and community-level factors that might explain any recent geographic variations in the rate and timing of cataract surgery.
Kawasaki Disease-
Because Kawasaki Disease has shown an explosive rise in incidence in  the past few decades, it is likely caused by increased sunscreen use/sun avoidance>>>Vitamin D3 deficiency >>>>>and thus can be cured by long term high dose Vitamin D3 therapy>>>>
Upon furher investigation, I have discovered thatthis disease  attacks out of the blue and can be fatal within 10 days…..So the likely best treatment for this would be high dose Vitamin D3 , maybe 50,000iu per day for 5 days….but also do what your doctor says as well!!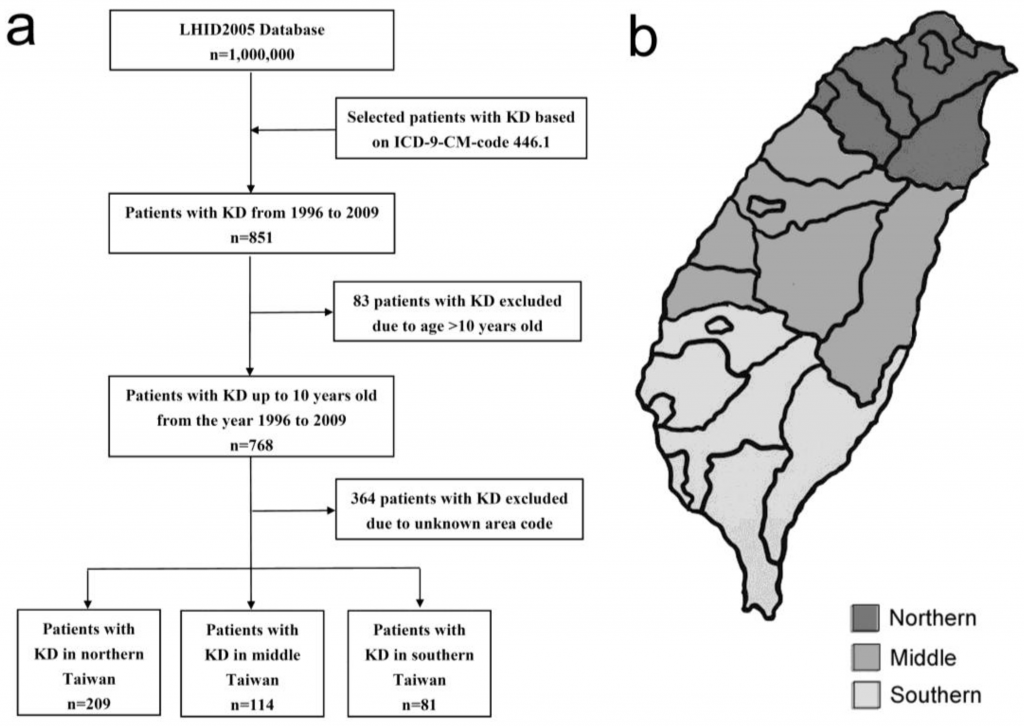 | Region | Latitude | Incidence a | Period | Citation |
| --- | --- | --- | --- | --- |
| Asia | | | | |
| Japan | 24–46 | 264.8 | 2012 | Makino et al. 2015 [7] |
| Korea | 33–39 | 194.7 | 2014 | Kim et al. 2017 [9] |
| Beijing | 39 | 55.1 | 2004 | Du et al. 2007 [12] |
| Shanghai | 31 | 55.5 | 2012 | Chen et al. 2016 [13] |
| Taiwan | 22–25 | 69.0 | 2003–2006 | Huang et al. 2009 [14] |
| Hong Kong | 22 | 39.0 | 1994–2000 | Ng et al. 2005 [15] |
| India | 8–37 | 7.0 | 2014 | Singh et al. 2016 [10] |
| Thailand | 5–20 | 2.6 | 2002 | Durongpisitkul et al. 2006 [11] |
| North America | | | | |
| Canada | 41–83 | 26.2 | 1995–2006 | Lin et al. 2010 [16] |
| United States | 18–71 | 20.8 | 2006 | Holman et al. 2010 [17] |
| Europe | | | | |
| Finland | 59–70 | 11.4 | 1998–2009 | Salo et al. 2012 [18] |
| Norway | 57–80 | 5.4 | 1998–2009 | Salo et al. 2012 [18] |
| Sweden | 55–69 | 7.4 | 1998–2009 | Salo et al. 2012 [18] |
| Ireland | 51–55 | 15.2 | 1996–2000 | Lynch et al. 2003 [19] |
| Netherlands | 50–53 | 5.8 | 2008–2012 | Tacke et al. 2014 [20] |
| England | 49–60 | 8.4 | 1998–2003 | Harnden et al. 2009 [21] |
| Germany | 47–54 | 7.2 | – | Jakob et al. 2016 [22] |
| France | 42–51 | 9.0 | 2005–2006 | Heuclin et al. 2009 [23] |
| Portugal | 37–42 | 6.5 | 2000–2011 | Pinto et al. 2017 [24] |
| Italy | 35–47 | 14.7 | 2008–2013 | Cimaz et al. 2017 [25] |
a Incidence rates are reported per 100,000 children of <5 years of age.
(Note the Finlanders  don't eat a much fish as other  Scandinavians–   while Norwegians are on of the biggest fish-eating countries and primarily eat  Cod, Salmon and Herring, all loaded with Vitamin D3). Italy remains a mysterious outlier to the pattern.)
Clin Rheumatol.
 2016 Jul;35(7):1865-72. doi: 10.1007/s10067-015-2970-6. Epub 2015 May 22.
Severe vitamin D deficiency in patients with Kawasaki disease: a potential role in the risk to develop heart vascular abnormalities?
Abstract
Twenty-five-hydroxyvitamin D (25(OH)-vitamin D) is crucial in the regulation of immunologic processes, but-although its deficiency has been reported in patients with different rheumatological disorders-no data are available for Kawasaki disease (KD). The goals of this study were to assess the serum levels of 25(OH)-vitamin D in children with KD and evaluate the relationship with the eventual occurrence of KD-related vascular abnormalities. We evaluated serum 25(OH)-vitamin D levels in 79 children with KD (21 females, 58 males, median age 4.9 years, range 1.4-7.5 years) in comparison with healthy sex-/age-matched controls. A significantly higher percentage of KD patients (98.7 %) were shown to have reduced 25(OH)-vitamin D levels (<30 ng/mL) in comparison with controls (78.6 %, p < 0.0001). Furthermore, KD patients had severely low levels of 25(OH)-vitamin D than controls (9.17 ± 4.94 vs 23.3 ± 10.6 ng/mL, p < 0.0001), especially the subgroup who developed coronary artery abnormalities (4.92 ± 1.36 vs 9.41 ± 4.95 ng/mL, p < 0.0001). In addition, serum 25(OH)-vitamin D levels correlated not only with erythrosedimentation rate (p < 0.0001), C-reactive protein (p < 0.0001), hemoglobin level at KD diagnosis (p < 0.0001) but also with both coronary artery aneurysms (p = 0.005) and non-aneurysmatic cardiovascular lesions (p < 0.05). Low serum concentrations of 25(OH)-vitamin D might have a contributive role in the development of coronary artery complications observed in children with KD.
Chronic Wounds-
Just did a search of chronic wounds vs latitude  to see if there is some sort of latitude gradient  for chronic wound incidence which would suggest a Vitamin D3 connection. (Because the sun is stronger at the equator and thus Vitamin D3 (which is made in your skin when the sun hits it) levels are presuemd to be higher in humans on average, and decline as one moves further from the equator.) I did find this article>>>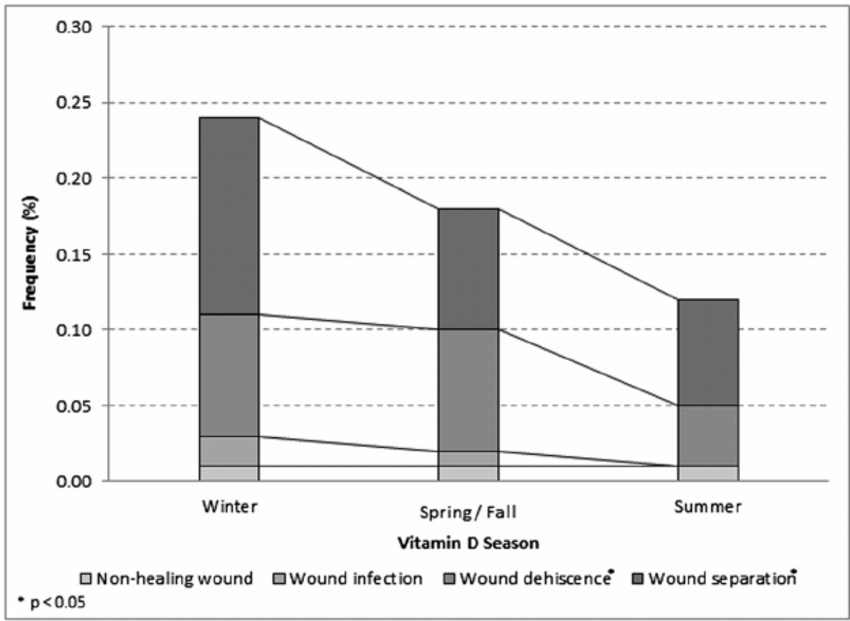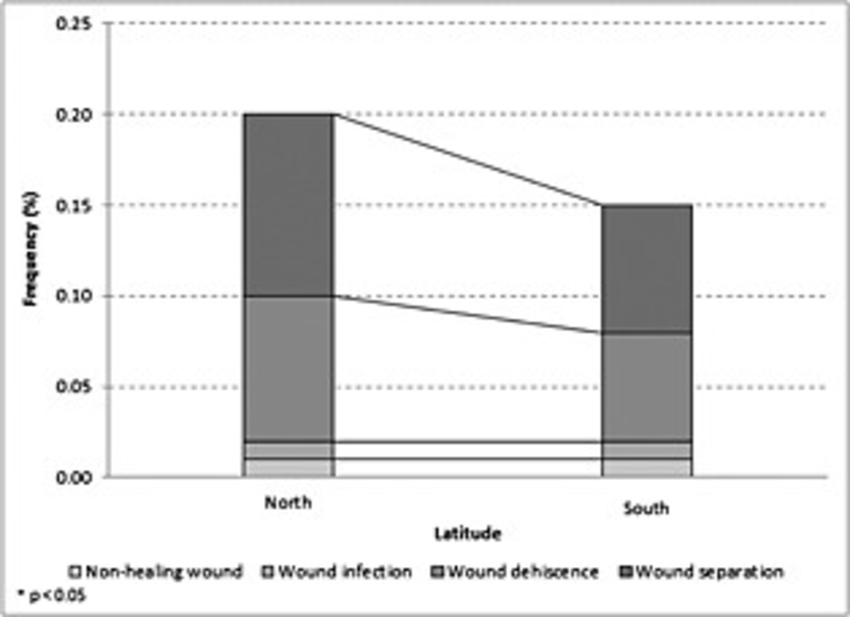 You might want to read about a woman who cured her chronic wound of 3 years  by taking 80,000 iu's per day  of Vitamin D3..in just 3 weeks!>>>>
Vitamin D3 Case Study #4: 3-Year Dangerous Chronic Wound Completely Healed in 3 Weeks
SIDS (SUDDEN INFANT DEATH SYNDROME)
Yes there is evidence that  SIDS is caused by Vitamn D3 deficiency as well.
New Research Links Vitamin D Deficiency and SIDS in Infants
by Katlyn Joy | March 9, 2012 9:53 AM0 Comments
In January 2012, researchers from the Royal London Hospital and Sheffield Children's Hospital, noted that one in four youngsters have Vitamin D deficiency and believe there could be a link between this nutritional lack and the incidence of Sudden Infant Death Syndrome or SIDS.
Vitamin D deficiency can cause rickets, a disorder that results in weakened and brittle bones. Rickets is caused by too little Vitamin D, calcium or phosphate. Children with this disorder may easily receive bone fractures. This may result in suspicion of child abuse, when children have multiple fractures or a repeated history of bone breaks.
Vitamin D deficiency is more commonly seen in African American children because their increased pigmentation means less absorption of sunlight and the associated Vitamin D. Rates of both SIDS and Vitamin D deficiency are higher in African American children. Both conditions are also known to peak during low sunlight winter months as well.
Another consideration is breastfeeding. Breastfed infants require Vitamin D supplements beginning by two months of age. The recommended amount of Vitamin D supplement is 400 IUs daily. These are usually administered as drops to the infant.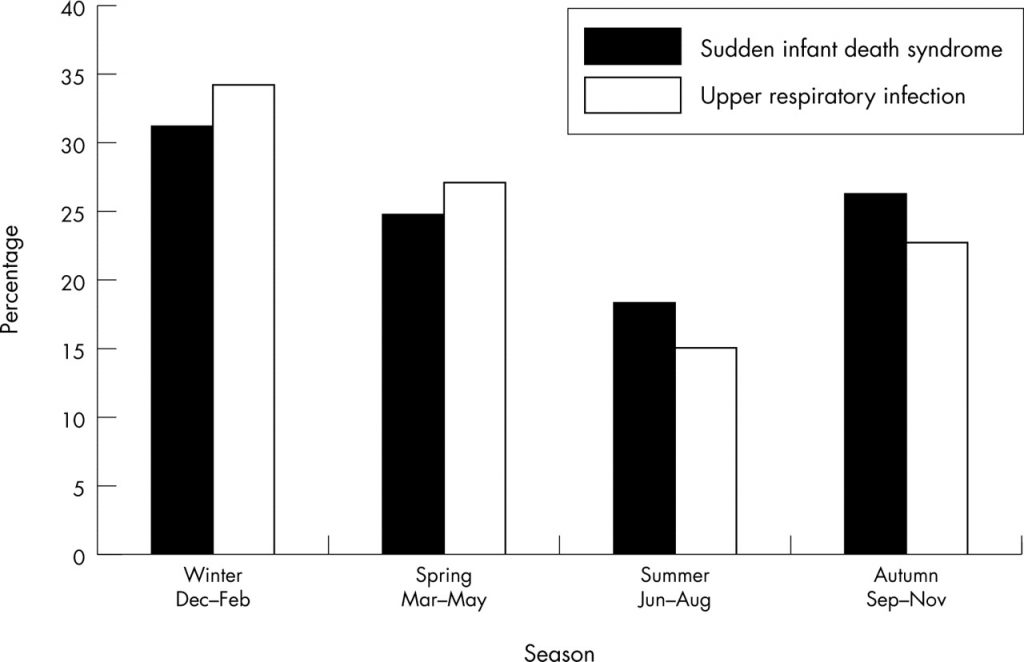 Contradictory evidence to the idea that SIDS is caused by Vitamin D3 deficiency is found in the fact that SIDS deaths have been declining quite a bit since the 1980's. However this might be due to widespread parental training in how to prevent SIDS by making sure the baby sleeps on his or her back, and the removal of all toys and objects from the crib at night.
AMD (Advanced Macular Degeneration)-
This is a complicated disease to untangle, much like catartacts, because sun exposure  both increases the incidence of AMD, but it also leads to higher levels of Vitamin D3  which is AMAZINGLY protective against AMD- reducing its incience by 83%!  See article below… So it will also be hard to see an increase in incidence over time because sun avoidance  adds a confounding variable..Nonetheless, it is my expectation that high dose vitamin D3  has a very good chacne to reverse AMD-I have seen anecdotal reports  here and there on the web that this is true.
Low Vitamin D Levels Linked to Macular Degeneration Risk
Adults with the lowest concentrations of circulating 25-hydroxyvitamin D (25OHD) had the highest risk for age-related macular degeneration (AMD), according to a new systematic review and meta-analysis 
published online
 April 2 in 
Maturitas
.
"The findings of the present meta-analysis strengthen the idea that there might be a link between vitamin D deficiency and AMD, notably at the late stages of the disease (P=0.002)," write Cedric Annweiler, MD, PhD, from Angers University Hospital in France, and colleagues. "It may therefore be possible that correction of vitamin D deficiency could improve the prognosis of AMD."
The researchers used a Medline search through November 2015 to identify 11 studies that met their selection criteria, out of an initial 243 found. The criteria included observational or interventional studies and outcomes based on data about AMD diagnoses (in at least one eye) and circulating vitamin D concentration.
Among the studies, seven were cross-sectional, one was a case series, one was a case–control study, one was a retrospective longitudinal cohort study, and one was a discordant sibling cohort. They ranged in size from 65 to 17,045 participants; from 31 to 1440 participants had AMD. The researchers categorized AMD as whole, early, or late. All the studies had been published since 2007.
In a second analysis, those in the highest quintile of circulating vitamin D levels had the lowest odds of AMD compared with those in the lowest quintile. Those with the highest vitamin D levels had 83% lower odds of AMD (odds ratio [OR], 0.83; 95% CI, 0.71 – 0.97) and 47% lower odds of late AMD (OR, 0.47; 95% CI, 0.28 – 0.79) compared with those with the lowest levels.
Another odd fact  I discoverd is that people who take aspirin on a regular basis have a huge increase in the risk of AMD. Does aspirin cause AMD or is it just more prevalent in those with heart disease who take aspriin..that I do not know at this time>>
ALS (Amyotrophic Lateral Sclerosis)-  Fits the pattern exactly.  Note ALS has been successfully reversed in a mouse model of ALS by progesterone, which suggests more research is needed to see if progesterone and Vitamin D3  have overlapping duties in the endocrine system. This seems a good area to research in that both hormones, Vitamin D3 and Progesterone modulate the immune system. In the case of Progesterone high levels help tame the mother's immune system to prevent  attack of the fetus, whil Vitamin D3 can turn of the immune system attack in all autoimmune diseases.
-Vitamin D as a potential therapy in amyotrophic lateral sclerosis (mouse ALS) – Feb 2014
CNS Neurosci Ther. 2014 Feb;20(2):101-11. doi: 10.1111/cns.12204.
–Neurobiol Dis. 2013 Nov;59:80-5. doi: 10.1016/j.nbd.2013.07.011. Epub 2013 Jul 26.
Autophagy activation and neuroprotection by progesterone in the G93A-SOD1 transgenic mouse model of amyotrophic lateral sclerosis
Figure 3. Cumulative incidence of neovascular age-related macular degeneration by time intervals. Cumulative incidence was estimated using the Kaplan-Meier (product limit) method.
I wrote a book about ALS and progesterone available at amazon by the way>>
Here is a new awesome article about  D3 and Type 1 diabetes  and the new study  Destroys the myuth of the U shaped mortality curve for Vitamin D3 intake……it is just a straight downward trending line for most doses>>>
The Big Vitamin D Mistake
Abstract
Since 2006, type 1 diabetes in Finland has plateaued and then decreased after the authorities' decision to fortify dietary milk products with cholecalciferol. The role of vitamin D in innate and adaptive immunity is critical. A statistical error in the estimation of the recommended dietary allowance (RDA) for vitamin D was recently discovered; in a correct analysis of the data used by the Institute of Medicine, it was found that 8895 IU/d was needed for 97.5% of individuals to achieve values ≥50 nmol/L. Another study confirmed that 6201 IU/d was needed to achieve 75 nmol/L and 9122 IU/d was needed to reach 100 nmol/L. The largest meta-analysis ever conducted of studies published between 1966 and 2013 showed that 25-hydroxyvitamin D levels <75 nmol/L may be too low for safety and associated with higher all-cause mortality, demolishing the previously presumed U-shape curve of mortality associated with vitamin D levels. Since all-disease mortality is reduced to 1.0 with serum vitamin D levels ≥100 nmol/L, we call public health authorities to consider designating as the RDA at least three-fourths of the levels proposed by the Endocrine Society Expert Committee as safe upper tolerable daily intake doses. This could lead to a recommendation of 1000 IU for children <1 year on enriched formula and 1500 IU for breastfed children older than 6 months, 3000 IU for children >1 year of age, and around 8000 IU for young adults and thereafter. Actions are urgently needed to protect the global population from vitamin D deficiency.
Keywords: 
Vitamin D deficiency, Recommended dietary allowance, Institute of Medicine, Type 1 diabetes
INTRODUCTION
The incidence of type 1 diabetes (T1D) has been doubling every 20 years. In Finland, the recommendation for daily vitamin D supplementation was gradually reduced from 4000-5000 IU in 1964 to 400 IU in 1992. Concomitantly, T1D increased by 350% in those aged 1-4 years, 100% in those aged 5-9 years, and 50% in those aged 10-14 years [1]. However, since 2006, T1D has plateaued and decreased after an increase in serum 25-hydroxyvitamin D (25[OH]D) after the authorities' decision to fortify all dietary milk products with cholecalciferol [2]. Moreover, the worldwide association of ultraviolet (UV)-B light and vitamin D status with T1D and multiple sclerosis is now more than evident.
MAIN BODY
Vitamin D and Immunomodulation
The role of vitamin D in innate and adaptive immunity is critical. It has been shown that the redirection of human autoreactive T-cells upon interaction with dendritic cells can be modulated by an analog of 1,25-dihydroxyvitamin D3 [3]. In a recent plenary session entitled "Cell Therapy in Type 1 Diabetes" that closed the 2016 meeting of the European Society for Paediatric Endocrinology in Paris, Bart O. Roep [3] announced the initiation of phase 1 clinical trials in humans in 2016 with the following protocol: dendritic cells will be isolated from the patient's peripheral blood, cultured with calcitriol, and then re-injected in an abdominal intradermal position to 'teach' the rest of the immune cells not to attack β-cells anymore. In a large birth cohort study, T1D incidence was reduced by 78% with 2000 IU of cholecalciferol per day [4]. Moreover, T1D autoantibodies can be "negativated" with oral calcitriol [5]. Vitamin D levels >100 nmol/L (40 ng/mL with a conversion factor of ×2.5) improve insulin secretion [6] and prevent β-cell destruction by suppressing macrophage adhesion and migration through downregulation of endoplasmic reticulum stress and scavenger receptor-A1 [7].
The Statistical Error in the Estimation of the Recommended Dietary Allowance of Vitamin D
Veugelers and Ekwaru [8], in a correct reanalysis of the data used by the Institute of Medicine, proved that 8895 IU/d are needed for 97.5% of individuals to achieve values ≥50 nmol/L. Heaney et al. [9] confirmed that finding, reporting that 6201 IU/d were needed to achieve the Endocrine Society's recommendation of 75 nmol/L and 9122 IU/day to reach 100 nmol/L.
What Serum Vitamin D Levels Should We Aim for?
Garland et al. [10] published the largest meta-analysis ever conducted of all studies published between January 1, 1966 and January 15, 2013 dealing with all-cause mortality related to serum 25(OH)D, showing that 25(OH)D levels <75 nmol/L may be too low for safety and associated with higher all-cause mortality, demolishing the U-shape curve of vitamin D levels and mortality that had been assumed until then.
Call to Public Health Authorities
Since all-disease (autoimmune diseases, metabolic syndrome, type 2 diabetes, cancer) mortality risk is reduced to 1.0 with serum vitamin D levels ≥100 nmol/L [10], we call all responsible public health authorities to consider designating as the recommended dietary allowance (i.e., the average daily level of intake sufficient to meet the nutrient requirements of nearly all healthy people, presuming minimal sun exposure) intake levels corresponding to those proposed by the Endocrine Society Expert Committee (2011) as safe upper tolerable daily intake doses for patients at risk for vitamin D deficiency (<50 nmol/L): 2000 IU for those <1 year of age, 4000 IU for those aged 1-18 years, and 10 000 IU for those aged >18 years.
Since 10 000 IU/d is needed to achieve 100 nmol/L [9], except for individuals with vitamin D hypersensitivity, and since there is no evidence of adverse effects associated with serum 25(OH)D levels <140 nmol/L, leaving a considerable margin of safety for efforts to raise the population-wide concentration to around 100 nmol/L, the doses we propose could be used to reach the level of 75 nmol/L or preferably 100 nmol/L. Of course, these recommended doses can be individualized based on dietary and sun exposure habits and the latitude of the country, and they can also be adjusted according to body mass index, age, and skin color, with obese, elderly, and dark-skinned people needing higher doses.
Explanation of the Pandemic of Vitamin D Deficiency
Only 20% of our vitamin D reserve is meant to come from the diet. The remaining 80% is expected to be produced in our skin from the UV-B of the sun. In contrast to the context of the recommendations of the 1960s of 4000 to 5000 IU/d to avoid rickets, our diet today is poor in wild fish (×10 richer in vitamin D), wild eggs, and fresh milk. Children are playing and people are working indoors all day long, and powerful sunprotective cosmetics are used to prevent melanoma. Even sunny countries such as Greece present a high prevalence of vitamin D deficiency, as the angle of the sun rays from autumn to spring do not result in sufficient vitamin D production with usual sun exposure.
Optimal Vitamin D Supplementation
With the target for vitamin D set at 100 nmol/L, the dose, frequency, and duration of supplementation will be important factors for healthy subjects committed to optimizing their nutritional status. Since in the case of vitamin D, serum levels depend on dietary intake (20%) and sun exposure (80%), a practical approach would be to recommend at least the three-fourths of the upper tolerable dose proposed by the Endocrine Society to be taken as a supplement all year long except for circumstances such as vacations in which one engages in sunbathing. This could translate to, for instance, 1000 IU for children <1 year on enriched formula and 1500 IU for those older than 6 months who are breastfed, 3000 IU for children >1 year of age, and up to 8000 IU for young adults and thereafter, with non-pediatric doses adapted to the body mass index with the target set to 100 nmol/L instead of 50 nmol/L. More importantly, according to the Endocrine Society's clinical practice guidelines, doses up to 1000 IU/d for infants up to 6 months, 1500 IU/d for infants from 6 months to 1 year, 2500 IU/d for children aged 1-3 years, 3000 IU/d for children aged 4-8 years, and 4000 IU/d for everyone over 8 years can be given safely without medical supervision just to prevent vitamin D deficiency, while higher doses may be needed to correct hypovitaminosis D.
Importance of Vitamin D Supplementation
Such a strategy relies on adequate supplementation among pregnant and lactating women, and on timely supplementation of every newborn before seroconversion towards autoimmune targets occurs. The benefits for individuals' general health status, apart from the obvious gains in skeletal health, cannot be fully foreseen, but may very well be surprisingly greater than expected given the impact of vitamin D deficiency on metabolic syndrome itself. Improvements in vitamin D status may help reduce the public health burden of metabolic syndrome and of potential subsequent health conditions, including type 2 diabetes and cardiovascular disease.
CONCLUSION
Unfortunately, medicine took a very long time to realize that vitamin D is not simply a vitamin that prevents rickets. For that purpose, 400-600 IU/d may be enough. However, we know today that vitamin D is a powerful nuclear receptor-activating hormone of critical importance, especially to the immune system. With the available data mentioned above, the proposed doses would probably suffice to maintain vitamin D levels around or over 75-100 nmol/L, with practically zero risk of toxicity. Undeniably, further studies are needed to clarify the optimal supplementation of vitamin D, although it is uncertain whether a universal recommended dietary allowance is feasible. Meanwhile, actions are urgently needed to protect the global population from the threats posed by vitamin D deficiency.
PLEASE CLICK THE SHARE BUTTONS!>>>